Closing gap between active duty and academic success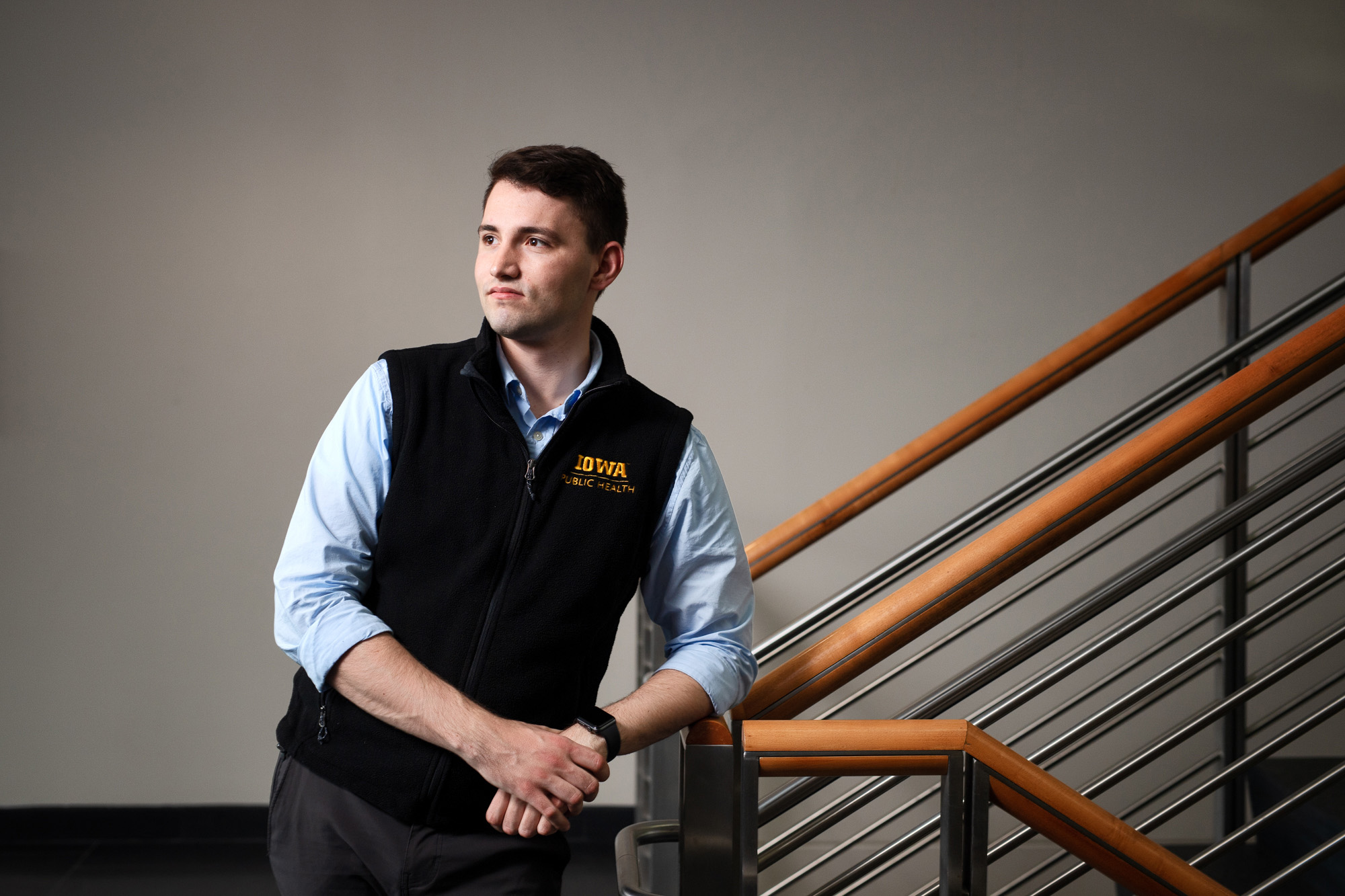 From the National Guard to the classroom, Josh Brown continues to serve others by helping veteran and military-connected students make a smooth transition into higher education.
Hometown: Hubbard, Iowa
Degree info: BS in public health and a minor in music
Future plans: Brown plans on applying to the MS program in occupational environmental health at Iowa.
Transitioning from military life to student life is far from easy. It means different rules, different responsibilities, and even different clothing. But for Josh Brown, one thing remains the same: the opportunity to help others.
Brown, an active military student at the University of Iowa, supports the varying needs of veteran and military-connected (VMC) students on campus, all while the public health major and music minor finishes his own degree program.
"I work to connect incoming students with an established group of student veterans or other military-connected folks," says Brown, who is a team lead with the UI Veteran Peer Mentoring (VPM) program. "Coming to the university as a nontraditional student can be tough; with the added experiences of the military, it can become extremely difficult to manage the transition alone. Through VPM, I'm able to bring students into a community where people are eager to offer their support."
Growing up in the small town of Hubbard, Iowa, Brown always knew he wanted to live in a larger city during college—a place that would empower him to discover his passions, lead to new career opportunities, and offer experiences unlike anywhere else. For Brown, Iowa's prestigious music program checked all the boxes, and he enrolled at Iowa as a music major in the fall of 2016.
As a first-generation student, Brown's acceptance to college was a huge milestone. He had saved money for tuition throughout high school, but by his second semester, he realized he would need additional funds. Brown made the difficult decision to leave the university to serve in the Iowa Air National Guard, hoping to earn enough educational benefits to pay for the remainder of his education.
Active members of the Iowa Air National Guard have the potential to receive 100% tuition reimbursement, but there is no guarantee when or how much financial support one will receive. With so much uncertainty, it can be a difficult decision for students like Brown to make.
"It was hard to leave the university," Brown says. "I'm a first-gen student, so that felt like an added layer of pressure to deal with, and I was worried that I wasn't going to come back. I knew I wanted to, but things can change—the possibility of leaving the university for good was always in the back of my head."
Although it wasn't easy, leaving for the Iowa Air National Guard proved to be just what Brown needed. His service helped him financially and allowed him to discover his passion for public health.
"It was a particular emergency management exercise we did on the military base that got me interested in public health," Brown says. "I really enjoyed it, so I decided to do some research on careers that involved similar duties. That's when I discovered public health was such a diverse field. I think the flexibility of a public health degree is what got me excited for the future."
Brown re-enrolled at Iowa in the spring of 2019 as a public health major. Now in his fourth year, he's an active member of the Iowa Veteran Education, Transition, and Support (IVETS) office, where his goal is to help VMC students of all backgrounds discover their own passions while navigating the transition to higher education.
Support for the UI military community
The University of Iowa offers a variety of benefits and resources for members of the veteran and military-connected (VMC) community.
"Anyone who is a veteran, anyone who is currently serving, or anyone who is a dependent of someone currently serving or who has served all are welcome in IVETS," Brown says. "Our mission is to really expand the pool of student resources on campus to help everyone who is connected to the military in some way. We recognize that our experiences are very different from one another, so we try to make sure we have our bases covered."
The IVETS community continues to grow each year, which makes supporting the needs of every individual a challenge. But for Brown, with challenge comes motivation, and he is determined to ensure everyone feels like they belong.
Chelsea Burk, former director of IVETS, says Brown has been a powerful advocate on campus and inspires students to follow in his footsteps.
"Josh is an advocate at his core. In the years I have known him, he has consistently taken larger and larger leadership roles in arenas that directly impact his fellow undergraduate students' success," Burk says. "With Josh as a leader in student government, the University of Iowa Veterans Association, and the IVETS office as a veteran peer adviser, he has inspired other students in the VMC community to become advocates themselves and to get involved."
Beyond student resources, the presence of a robust veteran peer community also plays an important role in one's transition to higher education. In addition to his role as a team lead for the Veteran Peer Mentoring program, Brown is the communications director for the University of Iowa Veterans Association (UIVA), a group of veterans and supporters who help students adjust to and integrate into university life. Additionally, the group aims to support those still serving as well as their families, and to raise awareness among fellow students of the daily sacrifices made by service members.
"Differences in cultural norms between the military and institutions of higher education mean student veterans often struggle to integrate into the wider campus community," Brown says. "They're more likely to drop out of college, and if they do drop out, they're more likely to not return. The tough part is that many people don't understand what student veterans are dealing with. That's why our goal in UIVA is to make sure students have the support they need to get through the academic endeavors."
Brown says that building the military community on Iowa's campus and seeing his peers succeed has been the most rewarding experience during his time at Iowa.
"One of my mentees finally started to feel comfortable coming to the IVETS office for support and to just hang out. I see them making connections and friendships beyond myself and other people in the program, so that's really exciting," Brown says. "It's been rewarding to know that I helped bring students into a community that will hopefully have a positive impact on the rest of their academic career."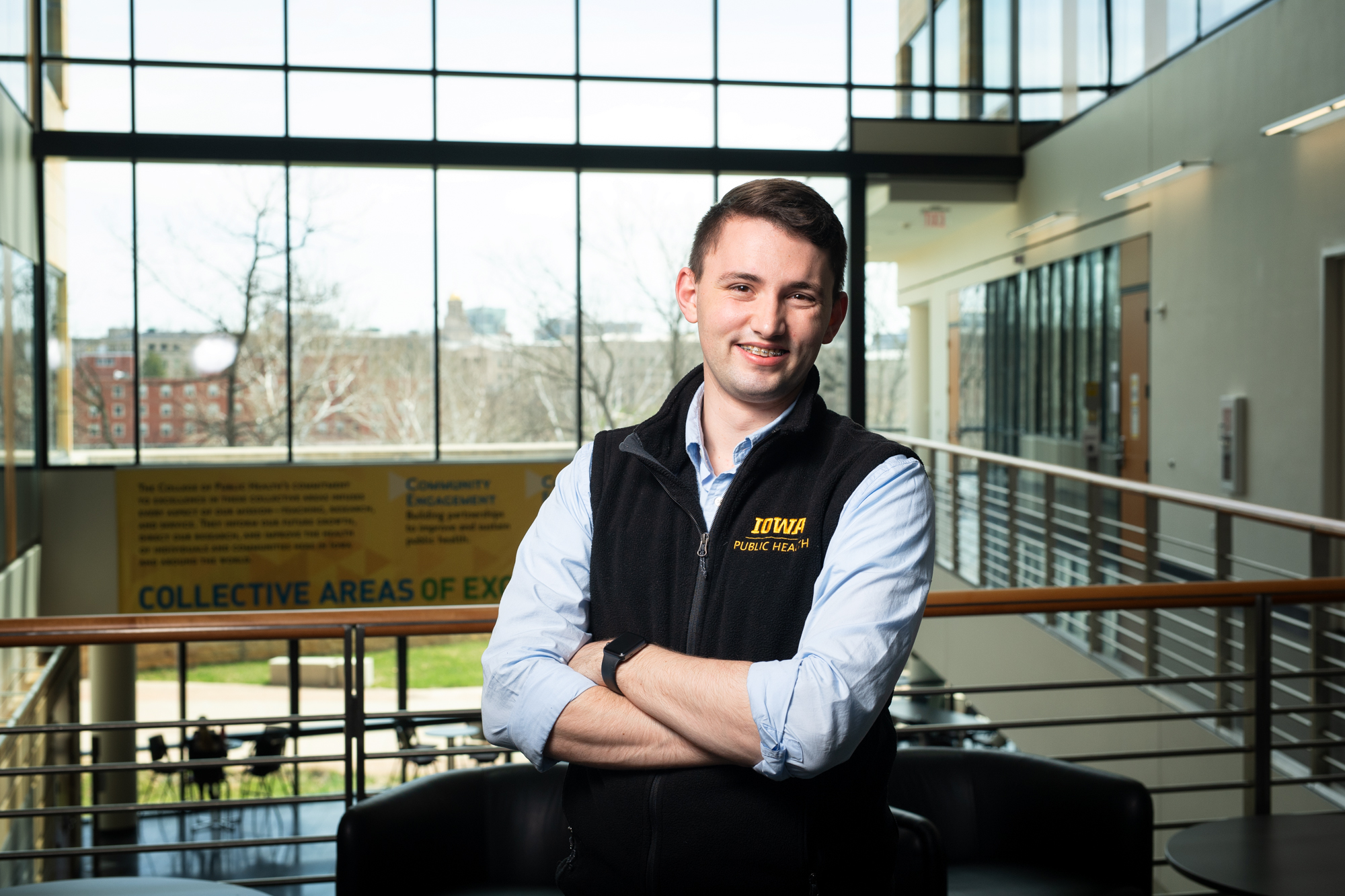 "I think the flexibility of a public health degree is what got me excited for the future."
UI College of Public Health student graduating in May
Brown says he's been extremely lucky to have the support of many mentors, especially Sara Sullivan, interim director of IVETS, who has been by his side since he returned to the university.
"I've spent so much time just hanging out in Sara's office when I have a problem or need to get something off my chest," Brown says. "She's always there to listen and to give me advice. Sara and really everyone in IVETS have changed the trajectory of my academic career."
For Sullivan, Brown has made just as much of an impact on her own life.
"Josh has helped me to look at myself differently. I am not a veteran; I am an ally. He has helped me to understand how to use my voice to advocate for VMC students like him," Sullivan says. "I joke about 'momming' him all the time because we are very close. I don't think Josh understands the impact that he has made on my life. I am a better communicator and strategic thinker because of Josh and our time building IVETS. One of the things we bond over is that we are both outspoken and unafraid to have difficult conversations. Josh has such a bright future. I cannot wait to see where his path leads him."
As graduation nears, Brown is focused on ensuring IVETS and his other affiliates on campus are positioned to succeed in the future.
Advice for future Hawkeyes?
Brown advises future Hawkeyes to step out of their comfort zone and to become involved on campus as much as possible.
"Get involved. And remember that it's never too late to get involved. You're never too far into your undergrad or into life to be a part of something you're passionate about."
"Making sure programs like IVETS are always funded is crucial," Brown says. "It's the primary way to take care of the VMC community, and since the University of Iowa is a military-friendly institution, it's important to be there for students every step of the way."
Sullivan says Brown's compassionate nature and his ability to put the needs of others first has already set a positive tone for IVETS' future.
"Josh routinely asks how the organizations he is involved with can help IVETS help VMC students. Everyone who walks into the IVETS space has a place with Josh. He is always willing to grab coffee, chat, go for a walk, or simply sit and listen," Sullivan says. "I think the biggest impact he makes with the VMC students and staff alike is to help people feel like they are not alone—they always have someone because they always have him."
After graduation, Brown plans on applying to Iowa's MS program in the Department of Occupational and Environmental Health. He's also willing to explore other environmental health-related jobs and would even consider going back full-time with his guard unit.
"I have a couple of options that I'm really excited about," Brown says. "I've always tried to be as flexible as possible. I'm a future-focused person, but sometimes things don't work out—and I'm OK with it. I've learned over the course of my academic career that flexibility is key."