Persistence pays off for dental graduate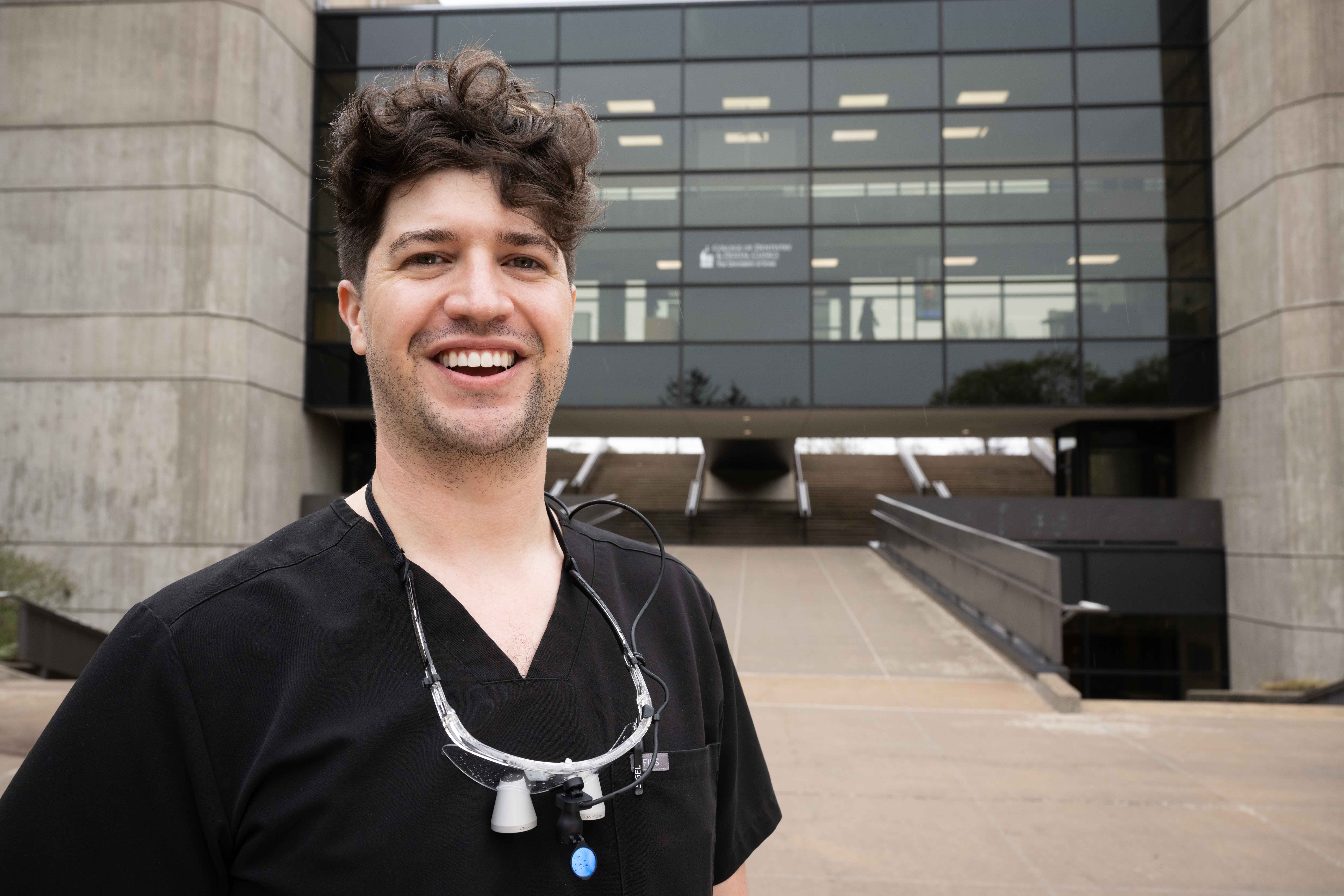 A dozen years after first thinking seriously about being a dentist, Kobi Voshell graduates in June from the UI College of Dentistry. Voshell overcame academic malaise, changed careers, and balanced school and family life to realize his ambition to open his own practice in Iowa City.
Degree: Doctor of Dental Surgery
Hometown: Ankeny, Iowa
Future plans: Open a dental practice in Iowa City
In November 2010, Kobi Voshell decided almost on a whim to volunteer at a free, all-day dental clinic for the public organized by the Iowa Mission of Mercy.
Voshell, a senior at Grand View University in Des Moines with no firm career plans, drove himself to the event, held at an arena in Cedar Rapids. When he entered and gazed down on the proceedings, he was awestruck.
"The whole arena floor was full of tents, rows and areas designated for certain types of procedures. It looked like an anthill," Voshell recalls. "It was exciting to see this was not going to be a boring day."
Voshell was assigned to a group who transported patients to and from the anesthesia tent, run by second-year dental students from the University of Iowa. It was a fortuitous placement.
"I got to talk to them, and ask them questions," Voshell says. "It was an interesting glimpse into dentistry and dental students, that I could see being me in the future."
That future is now the present for Voshell, who will graduate in June from the College of Dentistry at Iowa as a doctor of dentistry and open his own practice in Iowa City.
"The College of Dentistry has trained me well enough in the day-to-day dentistry that I feel confident that I will be able to be a dentist on day one," Voshell says. "Iowa exposed me to challenges; I am now confident I can handle the ups and downs that come with having my own practice."
Voshell's journey to dentistry has had its share of ups and downs. After failing out of a community college, he became a bike mechanic in Des Moines. Several years later, he re-enrolled, took night classes, and raised his grades enough to transfer to Grand View, where he graduated in 2011 with a degree in biology. Married and with a son, Voshell landed a job at DuPont Pioneer, where he was a production entomologist rearing insects for crop protection research.
"I enjoyed working with insects," Voshell says. "I thought, you know, this could be my career. I really enjoy this. I'll just do this."
But the company reorganized, and Voshell decided he didn't enjoy corporate life anymore. He thought back to that day with the Iowa Mission of Mercy, and the prospect of being a dentist.
"What I thought was a career was just a job," Voshell says. "I decided to go back and pursue dentistry because dentistry is a career. There's potential there to do all the things that I love, and I just needed to be willing to commit to it."
"The College of Dentistry has trained me well enough in the day-to-day dentistry that I feel confident that I will be able to be a dentist on day one."
who will graduate in June from the UI College of Dentistry and will open his own practice in Iowa City
For several months, Voshell woke up at 4 a.m. daily to study for the dental entrance exam, while balancing work and family obligations. He scored high enough to apply to Iowa's College of Dentistry. He was nearly there.
Until he wasn't. The college put him on its waiting list, and the class filled up. Voshell was left out.
"It was demoralizing," Voshell recalls.
He had a conversation with his wife about what to do next.
"She reminded me of a quote that says—and I'm paraphrasing—'You can do the thing and in five years you will have done it, or in five years you will have not done it. Five years will elapse either way.' In other words, time does not stop. So, there was no reason to not keep applying."
Voshell applied again, and he was accepted into the class of 2022. He wasted no time immersing himself in the college in every way he could find.
Since 1882, the University of Iowa College of Dentistry and Dental Clinics has been a leader in patient care, dental education, and oral science research. As the only dental school in the state of Iowa, the college is a source of great strength and pride for the state.
Voshell, who was elected class president during his first year, mentored and advocated for his classmates in academics and extracurricular affairs. He was nominated and served as student representative on the Collegiate Academic Performance and Professionalism Committee. He was the Academy of General Dentistry student chapter vice president and co-president for two consecutive years. He recruited speakers to lecture at the college as a member of the Iowa American Student Dental Association.
"I brought life experience to the class," Voshell says. "I tried to use that life experience to help the class, so we can remember why we came here, and why, even when you get locked up in the minutiae, dentistry matters to a lot of people."
Throughout his time at Iowa, Voshell has worked closely with Cari Anderson, director of the Dental Counseling and Wellness Support Office at the college. Among many ways he has served Anderson's office, Voshell has helped student peers to overcome mental, emotional, and environmental stressors that can derail their studies and their professional development in general.
"Kobi has worked very hard as an advocate for students with 'invisible' disabilities and to reduce stigma around ADHD (attention-deficit hyperactivity disorder) by serving as a peer mentor and ADHD support group co-facilitator," Anderson says.
"He is known throughout the college as the person you can go to for help," Anderson adds.
Anderson and others in the college have been so impressed by Voshell's many contributions that several nominated him for a Dean's Legacy Leadership Award.
Anderson says the recognition is richly deserved.
"It's not one project that Kobi is leaving as the legacy—he is the legacy," Anderson says.
As soon as Voshell collects his doctorate, he says it's off to the bank, and then to the office to begin his practice. The next step, the career so long in the making, will have arrived.
"This is my journey," Voshell says, while emphasizing he is indebted to his wife and all others who have supported him along the way. "I wanted this, and I did it. I made it."