Iowa, Yemen, and an Oscar nod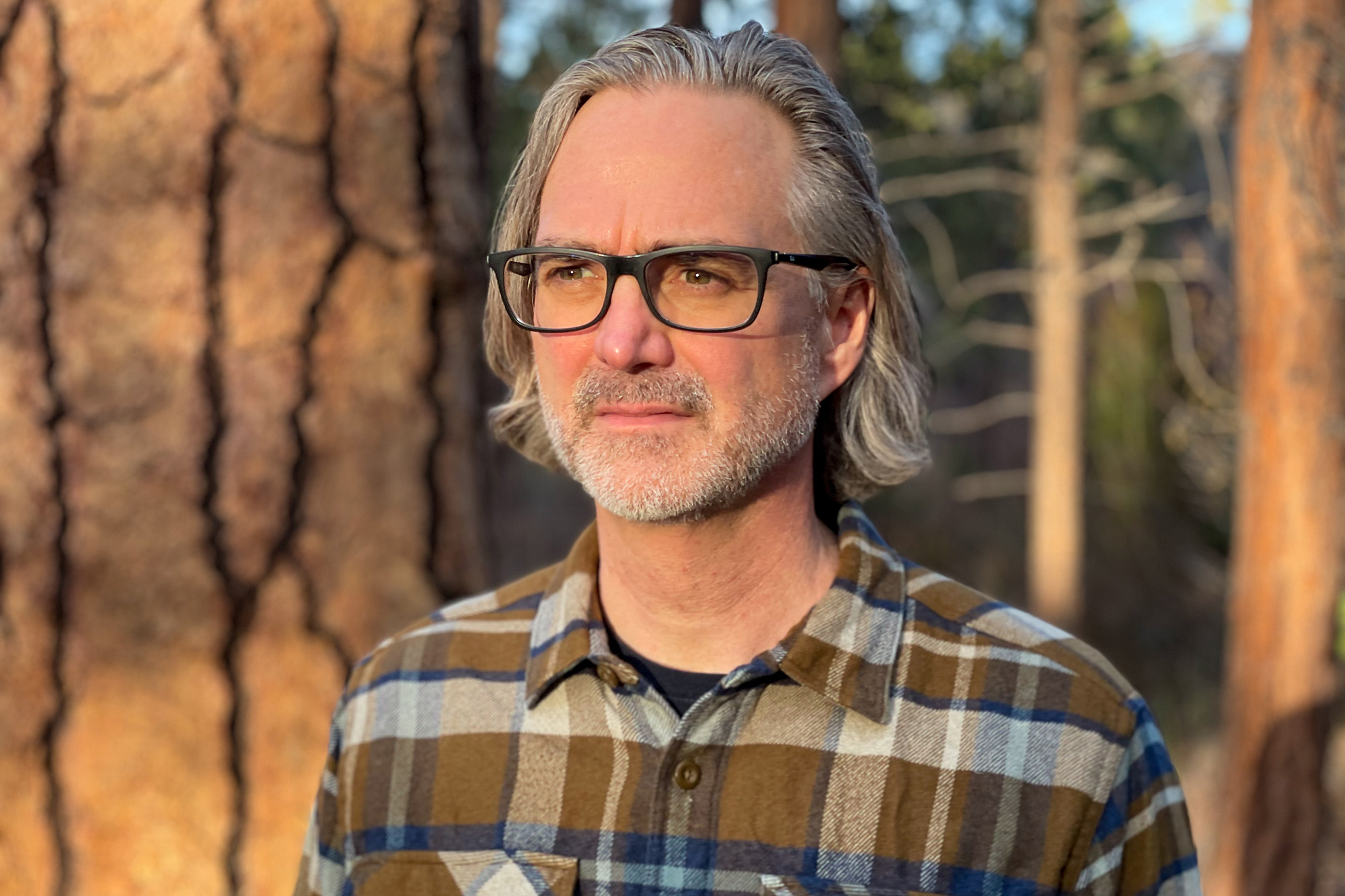 University of Iowa alum Michael Scheuerman, who says his time at Iowa opened his eyes to what was happening in the world, has earned an Academy Award nomination for shining a light on a human rights catastrophe in Yemen.
Michael Scheuerman has produced one movie.
It's been nominated for an Oscar.
Not a bad start to a film production career.
Scheuerman, a 1988 University of Iowa graduate, retired from his longtime career in information technology in 2018 and co-produced Hunger Ward, a documentary about the humanitarian disaster and famine caused by the brutal six-year civil war in Yemen. The film is one of five nominated for Best Documentary Short Subject at this year's Academy Awards ceremony, which will be held April 25.
"It's a unicorn," Scheuerman says. "It's not normal, but the stars all aligned. Most importantly, it introduced me to Skye Fitzgerald, one of the best documentary filmmakers in the industry, who's been nominated for two Oscars now. He's an exceptional partner, mentor, and friend."
Scheuerman says the documentary is the culmination of a journey that began at the University of Iowa. There, the self-described naïve kid from small-town Stillwater, Minnesota, had his eyes opened to injustice in the world with liberal arts classes in history and philosophy, while classes from the Tippie College of Business equipped him with the management skills he and Fitzgerald needed to help keep a chaotic film production on track.
"I was taught how to think critically, and I became an avid reader and writer at Iowa," he says. "It's where I learned project-management skills and financial-management skills. I credit Iowa for all of that."
Falling in love with Iowa
Michael Scheuerman grew up in Stillwater, Minnesota, but it seemed kind of inevitable he would wind up at the University of Iowa. His mother is from Cedar Falls, Iowa, and his father is from just across the Mississippi in Rock Island, Illinois. Both earned degrees from Iowa, as did several aunts and uncles. Scheuerman attended Hawkeye youth swimming camps as a kid and knew the campus was a good fit right from the start.
"I fell in love with the place and never thought about going anywhere else," he says. "It was a small-enough university that I had contact with my professors and could build relationships with them and learn more from them."
He felt the calling of being an entrepreneur so he majored in business in the Tippie College of Business, where he took classes that set him up well for the project-management and consulting career that lay ahead, first in the IT industry and now in film. But it was classes in the liberal arts, he says, that most changed his life. Classes in history showed him things he hadn't learned in his admittedly sheltered life, and philosophy classes showed him new ways to think.
"Professor Jay Holstein's class, Quest for Human Destiny, shook my world. I became an avid reader after that class," he says.
A semester abroad at the University of Copenhagen introduced him to a global perspective, and classes about the Vietnam War and the Soviet Union showed him the injustice of human rights abuses in the world.
"My time at Iowa really shifted my perspective and opened my eyes to what was happening in the world," he says.
Now that his film production career has gotten off to such a successful start, Scheuerman isn't sure what comes next. When the first entry on your IMDB.com page is an Oscar nominee, it seems like you have options. But for now, he's focused on bringing as much attention as he can to Hunger Ward and the human rights violations in Yemen.
Scheuerman's first experience in movies came not long after he graduated from Iowa in 1988, when he pretty much stumbled onto a movie set and was hired as a stand-in for Robert Redford. Scheuerman was in the Dominican Republic at the time, teaching English for a volunteer program. A movie was being filmed in Santo Domingo, the country's capital, and on a lark, he applied for a job on the set.
Because he was roughly the same height and build as Redford, he was hired as his stand-in for blocking and lighting during scene set-up. The movie turned out to be the 1990 thriller Havana, directed by Oscar-winning director Sydney Pollack. Scheuerman spent several weeks on set getting to know Pollack and the rest of the cast and crew, even playing hangman with a bald guy he presumed to be a producer but who turned out to be co-star Alan Arkin. He never struck up much of an acquaintance with Redford (though he still refers to him as Bob), but Pollack was downright chatty with him.
"He would set up a shot and ask me how it looked," Scheuerman says. "I'd say, 'Looks pretty good.' I didn't know what I was talking about. I was just 23 years old; I didn't know how big an opportunity this was. But when I saw the film being made, I wanted to learn more."
He would, but another 30 years passed before that opportunity came. In the meantime, he earned a master's degree in telecommunications from the University of Colorado Boulder and then ran his own IT management consulting practice in Minneapolis, leading technology projects for large organizations for 20 years.
Scheuerman was working for Facebook and living in Bend, Oregon, when he retired in 2018 and started looking for the next chapter in his life. He was at the BendFilm film festival when he met Fitzgerald, a director-producer who was showing his Oscar-nominated documentary Lifeboat, about war refugees crossing the Mediterranean Sea in rickety boats seeking asylum in Europe. Talking with Fitzgerald and other filmmakers renewed Scheuerman's interest in movies and film production, and led to an unusual project opportunity.
He learned that everything he'd been doing for the previous 20 years, is what a film producer does.
"Project management, that's a producer's job," he says. So he signed on to Fitzgerald's production company, Spin Film, and agreed to co-produce his next project, Hunger Ward. The experience not only tapped into his latent interest in filmmaking and the entrepreneurial spirit he nurtured at Iowa, but also his interest in human rights advocacy that came to life in those Iowa history and philosophy classes. Here was a chance to bring attention to what the United Nations calls the world's worst humanitarian crisis and potentially make a difference in Yemenis' lives.
The Yemeni civil war is a hopelessly complex fight between myriad local warlords, the government, and ethnic minorities that turned into a bloodbath when outside countries got involved, primarily Saudi Arabia, the United Arab Emirates, Iran, the United States, and the United Kingdom. It became a humanitarian crisis when the violence, political animosity, and diplomatic failures made it virtually impossible to bring food and medical assistance into a country that imported 90% of its food before the war.
"In Yemen today, 16 million people are food insecure," Scheuerman says. "Five million people face imminent famine. Two million children face imminent famine."
The 40-minute documentary follows two little girls seeking assistance at overwhelmed relief hospitals, one on each side of the battle lines, staffed by overworked doctors and nurses. One of the children is 10 years old and weighs only 24 pounds. The other, a 6-year-old, weighs only 15.
The staff does what it can, trying to entertain starving children with party balloons as they struggle to survive. Many don't. The documentary is heartbreaking, devastating, and searingly painful but necessary viewing.
"It's the worst humanitarian disaster in the world today," Scheuerman says. "Children are starving, it's all human-caused, and the U.S. is complicit. More Americans need to know what's happening there and how we're involved."
While Fitzgerald and his director of photography went to Yemen in 2020, Scheuerman managed the business, diplomatic communications, and security side from Oregon. It was often chaotic, communicating via satellite texts and managing a documentary made in a war zone from the other side of the world. Aside from communication and logistics, he also kept a team of retired Special Forces experts from the U.S. military on retainer in case the crew were kidnapped. Fortunately, the team wasn't needed, but Fitzgerald did have to rely on their Yemeni fixer to help free the crew after they were detained by a local warlord at a checkpoint.
Meanwhile, two production partners that were financing the film, Ryot Films and Paul Allen's Vulcan Productions, closed down, one at the end of 2019 before production began in Yemen and the other at the end of 2020 during the COVID-19 pandemic. Fortunately, he says both companies were exceptional partners and met or exceeded their funding commitments before closing.
Scheuerman learned about the Academy Award nomination when he woke up early to watch the 5:20 a.m. Pacific time announcements live on television Feb. 28. He can't really remember how he responded when he heard the film's name read.
"It was all sort of surreal," he says. "I guess I might have cheered, but I'm not sure."
Scheuerman and his wife plan to attend the April 25 Oscar ceremony in Los Angeles' Union Station, one that will be significantly de-glitzed from past ceremonies by COVID-19 precautions. But he says winning an Oscar would not be great just in and of itself. Winning an Oscar would be great because it would bring more attention to the film and to the people of Yemen whose struggles it documents.
"I was taught how to think critically, and I became an avid reader and writer at Iowa. It's where I learned project-management skills and financial-management skills. I credit Iowa for all of that."
Iowa alumnus and Oscar-nominated film producer
Since the film came out last fall, in the heart of the pandemic, its screenings on the film festival circuit where it would normally find its audience have been limited. But Scheuerman says the word is getting out. The film has had some large, global online screening events, and it was picked up by MTV Documentary Films and started streaming on Paramount+ this month after streaming on Pluto TV in March. It's been covered by NPR, the Huffington Post, Foreign Policy Magazine, the Los Angeles Times, and other media, so it's having an impact. Actor Mark Ruffalo has even become involved in helping the film.
The team discovered the silver lining of releasing a film during a pandemic has been a shift to online global screening events to mass audiences. They have hosted four virtual policy events from Washington, D.C., with up to 750 people from as many as 40 countries per event for NGOs, policymakers, activists, influencers, journalists, and citizens, a global reach not possible with theatrical screenings. The Nobel Peace Center in Oslo; the U.S. Institute of Peace in Washington, D.C.; and the World Affairs Councils of America also hosted Hunger Ward events this spring.
"Our largest virtual event to date will be a film screening and discussion from the Nobel Peace Center in Norway with a fireside chat between Fitzgerald and U.N. World Food Program CEO David Beasley," Scheuerman says. "The program just won the Nobel Peace Prize last fall for its efforts to prevent food from being used as a weapon of war, so we are honored to participate."
Scheuerman says the most gratification he's gotten is from partnering with Yemeni-Americans who have worked tirelessly on Capitol Hill for six years to end U.S. involvement in the war.
"Once they saw the film, we quickly became friends and partners and are in communication every day. We host global advocacy events together as they use Hunger Ward as a tool for their awareness and advocacy work, which is exactly why we made the film," Scheuerman says.
"Our partners tell us they're grateful we tell a story that hits in the heart," he says. "They say it shows what's happening to our siblings, our families, our country. The public is numb to death and starvation statistics from the news, so a film that engages people emotionally is what they've been waiting for. It's kind of a miracle this film got made and hearing that from our partners makes it all worth it."
The film also includes an appeal for people who want to make a contribution to aid Yemeni relief efforts. To learn more about how to help the people of Yemen, visit www.hungerward.org/getinvolved.