Finding community and passion in the same place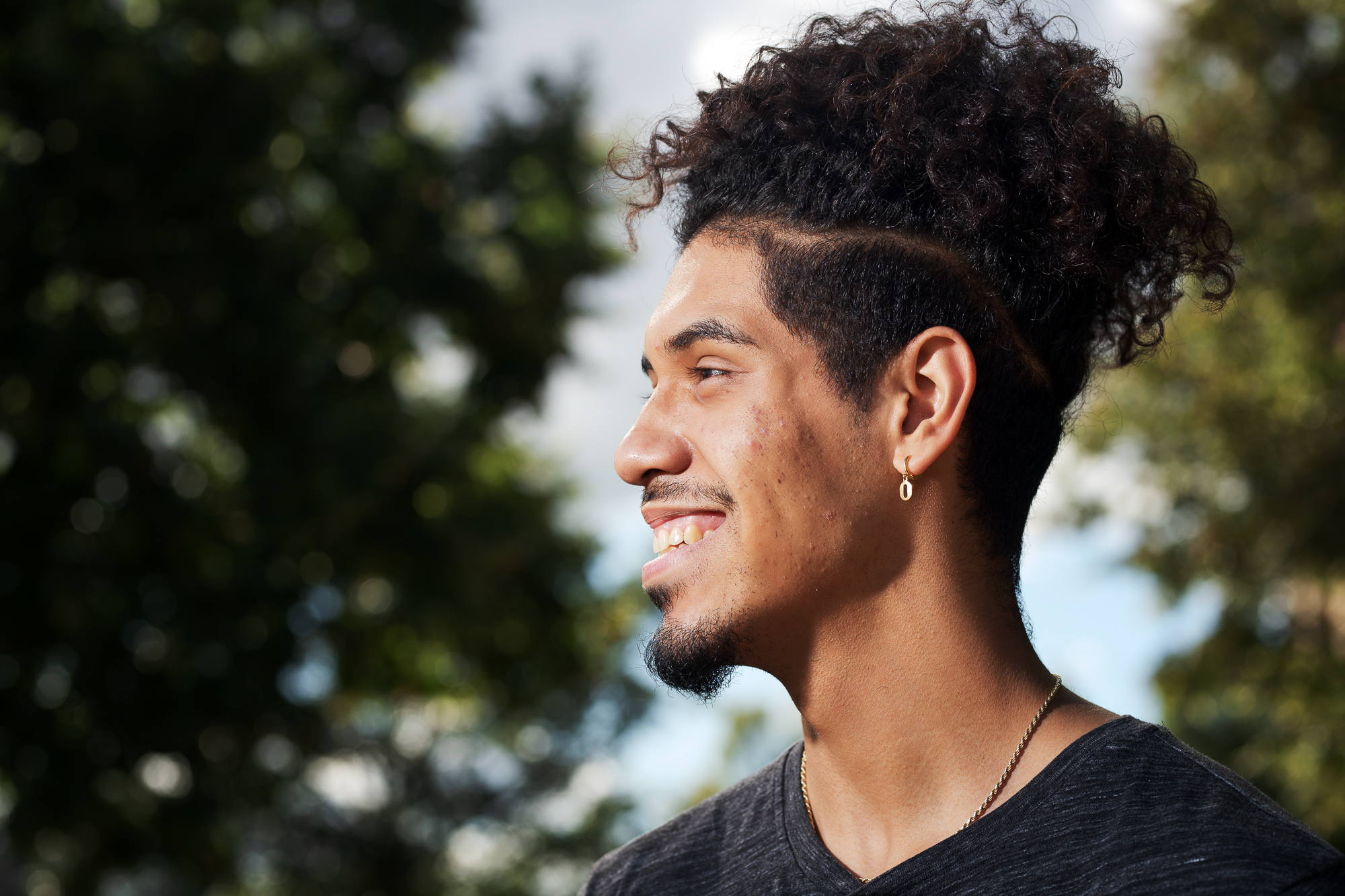 Xavier Ortega says the cultural centers at the University of Iowa have changed his perspective on community and allowed him to discover his passion for helping others.
Growing up in Milwaukee, Wisconsin, a city with vibrant, diverse communities, Xavier Ortega simply saw his Cuban and Mexican heritage as the norm. After spending most of his life surrounded by people who shared a similar background, moving to the University of Iowa was a big change.
"Coming to Iowa was a culture shock," he says. "At home it was a more diverse area, and there were mainly just Black and brown people around me. So coming here for me really flipped the switch."
Ortega's perspective on community at Iowa began to change when he joined the Iowa Edge program—a student organization that provides academic and social support to selected African American, Alaskan Native, American Indian, Asian American, Pacific Islander, Latinx/a/o, first-generation, and LGBTQ+ college students transitioning to college.
"Moving for college is a big step, so having that extra support through Iowa Edge before school started was definitely helpful," he says. "I met a peer leader named Chris Vasquez who really pushed me to experience the multicultural organizations here on campus."
What Latinx/a/o Heritage Month means to Xavier Ortega
"What I appreciate most about heritage month is the highlighting of different identities like Queer Latinos and Afro-Latinos. It's important because being able to have that representation of your culture and making those connections that may lack at Iowa can make one feel at home and be closer to oneself.
"Growing up in a big city, celebrating my culture has been more of an everyday thing. I never thought of heritage month as a specific time. My family and I are always celebrating. It's part of our culture. It's who we are. But having that sense of connection at Iowa is a pleasure to have."
After learning more about student organizations from Vasquez and the Iowa Edge program, Ortega decided to join the Association of Latinos Moving Ahead (ALMA), whose purpose is to offer a sense of community for Latinx students. By his sophomore year, Ortega was selected to be the ALMA's First-Year Liaison—an executive position that helps first-year students connect with resources that support their cultural heritage. This leadership experience combined with the relationships he formed along the way sparked Ortega's interest in helping others.
"The ALMA organization and the Iowa Edge program are good catalysts of community and support," he says. "Living in a city and knowing what kind of effect social work can have, I really just enjoy helping people in my community. I think being there for people is important. ALMA is what keeps me on campus—without their support, I'm not sure if I'd still be here."
A particular classroom experience really instilled Ortega's passion for social work. During his sophomore year, he decided to take Social Justice Social Welfare, a general education course taught by Motier Haskins. Ortega quickly connected with Haskins and was inspired by his dedication to helping students succeed.
"Professor Mo has had a great influence on me. His course is what really moved me to social work, and his care for students has always been there," Ortega says.
Haskins, who comes from a "minority" background himself, says Ortega's personal qualities have given him both the intellectual and people skills to create positive interactions with a diverse range of faculty. 
"Xavier continuously challenged himself to improve as a great student leader. I see this clearly as a trait that I associate with the best and the ones best suited for success."
lecturer in the UI School of Social Work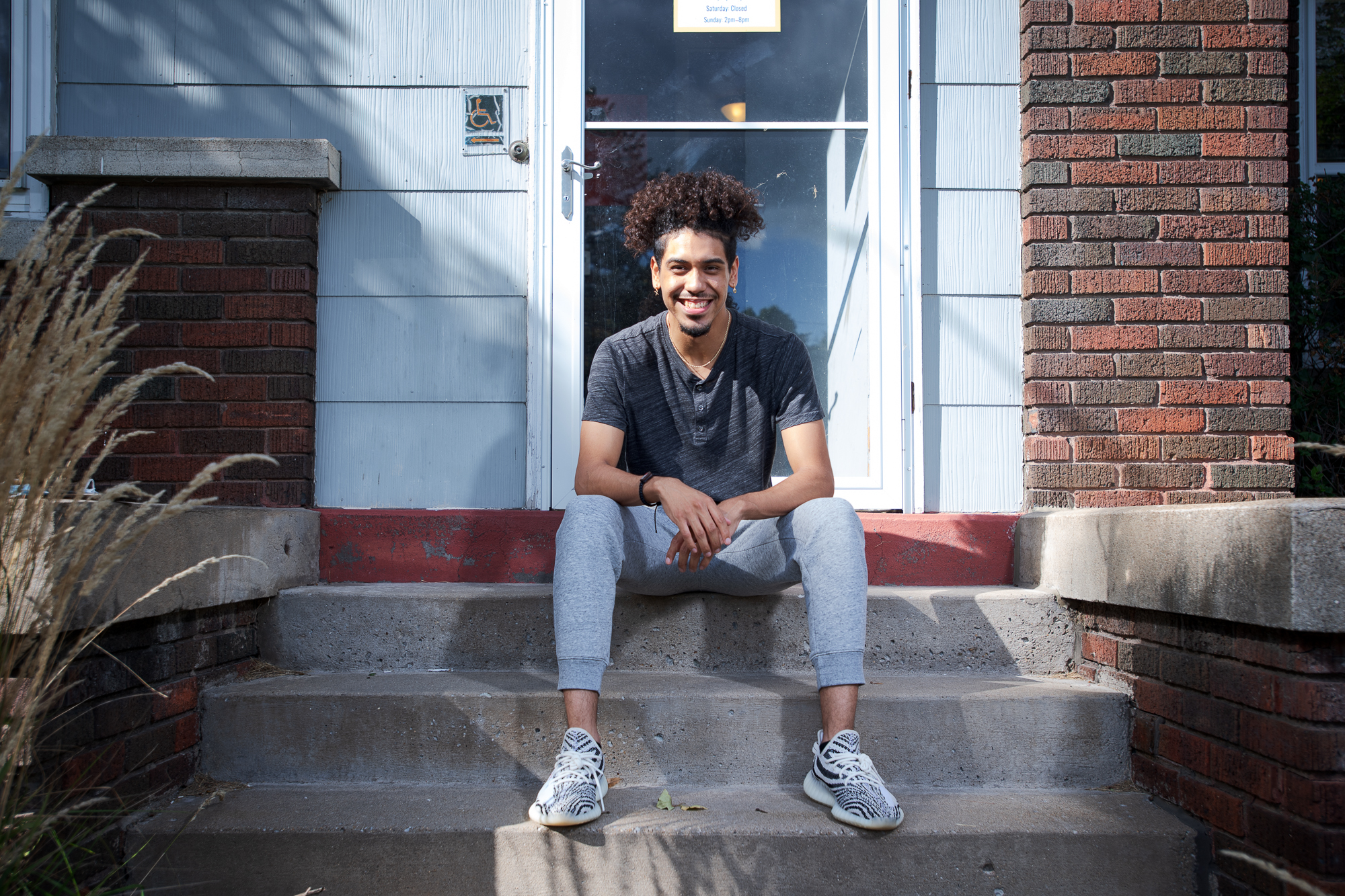 "I immediately noticed something special about Xavier while he was in my social justice course. He was engaging and at ease while interacting with me. Not all students find it easy to develop relationships with faculty members," says Haskins. "The fact that both of us are from marginalized backgrounds created the bond that we quickly established."
Ortega's strong work ethic is also something Haskins appreciates—something that will not only help Ortega succeed as a student, but allow him to excel in social work.
"Xavier continuously challenged himself to improve as a great student leader. I see this clearly as a trait that I associate with the best and the ones best suited for success," says Haskins. "His prior coursework has taught him to think critically and to be self-reflexive about his own role at the university. Given his strong academic achievements to date and the promise he has exhibited for future learning, I will always find it easy to write recommendations for him."
Latino Native American Cultural Center
Founded in 1971, the Latino Native American Cultural Center (LNACC) aims to develop and foster a sense of belonging where students can authentically engage with their personal, academic, cultural, emotional, and spiritual identities in a safe, trusting, loving, non-competitive, non-judgmental, yet challenging space. Over the years, this center has become home to many students and student organizations that sponsor conferences, powwows, study groups, community educational programs, boycotts, and rallies to address community and campus issues.
After graduation, Ortega plans to live in a big city where he can give back to the community and create positive change for minorities.
"I either want to move back to Milwaukee or somewhere like Detroit or Atlanta—somewhere where I feel like I can be more connected within the community," he says. "I want to be in those places where I'm able to help people who grew up in the same situation as I did."
Ortega advises future Hawkeyes to get involved with the cultural centers on campus as early as possible.
"Especially if you're coming from a place that's the complete opposite of Iowa, being in those cultural centers will really help your own growth while also helping you feel comfortable with where you're at," he says. "For me, the cultural centers at Iowa are really like a home away from home. Since coming here, I've been homesick—having a family here at Iowa that I can lean on is super helpful. I just love it."
Ortega hopes the university will do more to support students of color on campus and that more students will take advantage of the cultural centers and the resources they offer.
"Support for minority students can be hard to see at times. A lot of support mainly comes from professors and university staff who are also minorities on campus," he says. "There have definitely been times when I haven't felt welcome at Iowa, but the multicultural centers and orgs on campus have helped me stay here and made me want to continue my education, continue my growth, and continue to work toward a better future for myself."