Thriving outside of her comfort zone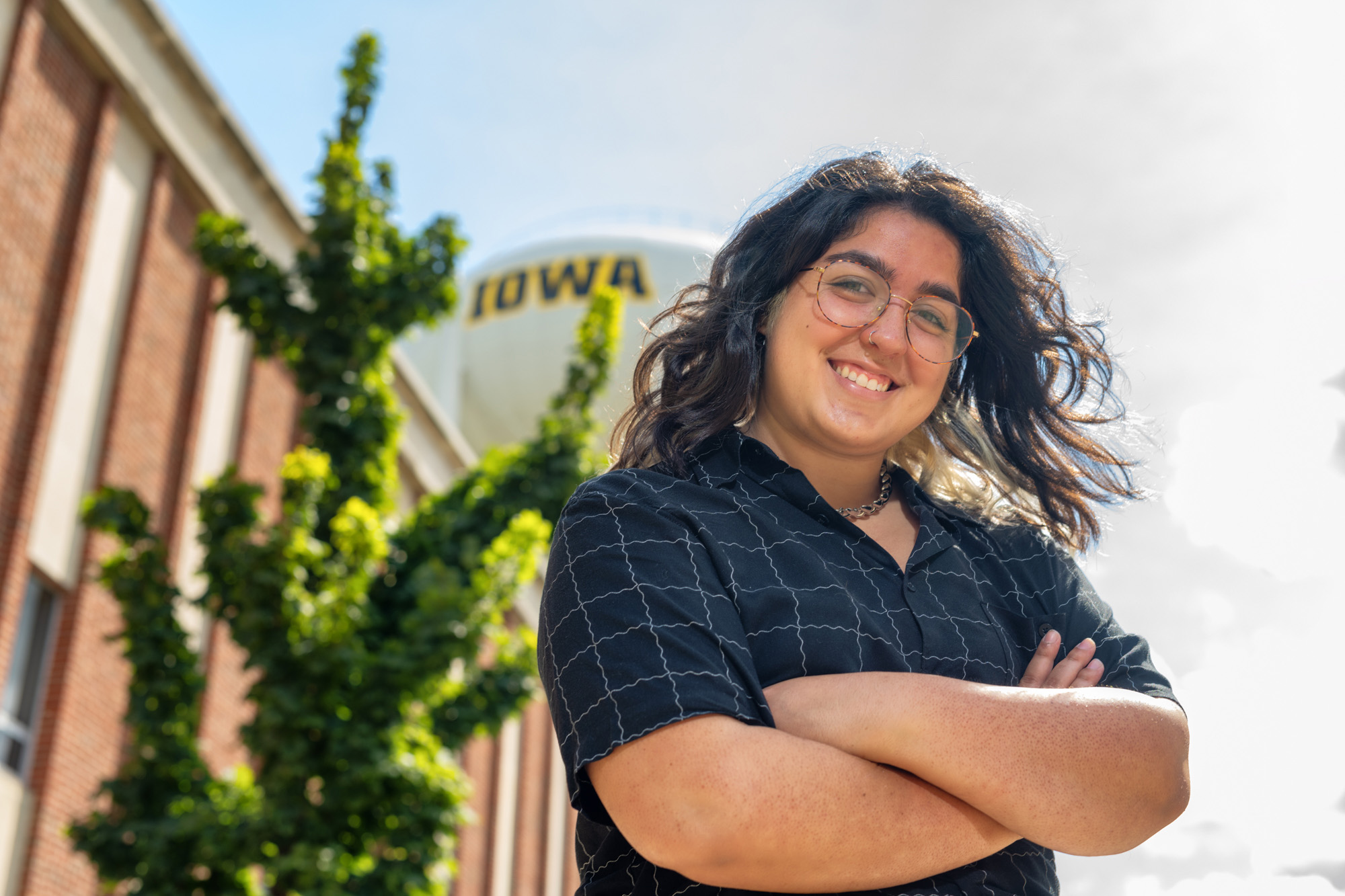 More than 1,000 miles from her Texas home, University of Iowa student Bianca Robles-Muñoz is getting a top-notch education in communication sciences and disorders while also gaining a newfound appreciation for her Latina heritage.
When Bianca Robles-Muñoz was searching for undergraduate colleges, she didn't expect to leave her home state of Texas, let alone for a faraway campus in the Midwest.
But the aspiring speech-language pathologist was drawn to the University of Iowa's strength in communication sciences and disorders, and when she visited Iowa City she quickly decided to become a Hawkeye. In fact, she became so comfortable on the UI campus that she decided to stick around for graduate school after earning a BA in May 2021. As an undergraduate, she majored in speech and hearing science, minored in American Sign Language (ASL) and Latina/o/x studies, and gained invaluable research experience in a faculty member's lab. Now she is working toward a master's degree in speech-language pathology.
"I had such a strong support system here during undergrad that I asked myself, 'Why should I leave?'" says Robles-Muñoz, who grew up in the Houston area. "On top of the wonderful grad program at Iowa, a big reason I chose to stay was because I felt like no one else could compete with all the connections I had made."
What Latinx/a/o Heritage Month means to Bianca Robles-Muñoz
"For me, it's representation. It's activism, it's community, it's safety, and it's finding solace and communion with one another. But it's also being able to fight alongside one another for those things that we need the rest of the year—for all the other months when our voices aren't being amplified."
Those connections were made both inside and outside the classroom. Robles-Muñoz, who is fluent in Spanish, had taken ASL in high school and developed an interest in Deaf culture—and found an inspiring career path.
"I asked my ASL teacher what jobs I could do where I could work with the Deaf community, and that's how speech pathology got onto my radar. As I looked into it more, I discovered that I'm really interested in working with bilingual populations," says Robles-Muñoz, whose parents are from Puerto Rico. "There's a severe lack of bilingual providers in the U.S., and I saw an opportunity to not only help the Deaf community but also my own community. I realized that speech-language pathologists do a lot more than just work on R's and S's."
During her sophomore year, Robles-Muñoz approached one of her professors about doing research related to bilingualism. Kristi Hendrickson, assistant professor of communication sciences and disorders and director of the Psycholinguistics Lab, was thrilled to add her to the team.
"Beyond being a terrific scholar and researcher, Bianca constantly links her research and academic coursework to individuals in her community," Hendrickson says. "She challenges me to conduct socially responsible research and challenges our department to offer coursework that provides education on how to lift up marginalized sectors of our local, national, and global communities. Bianca will have an enormous impact on the field of communication sciences and disorders."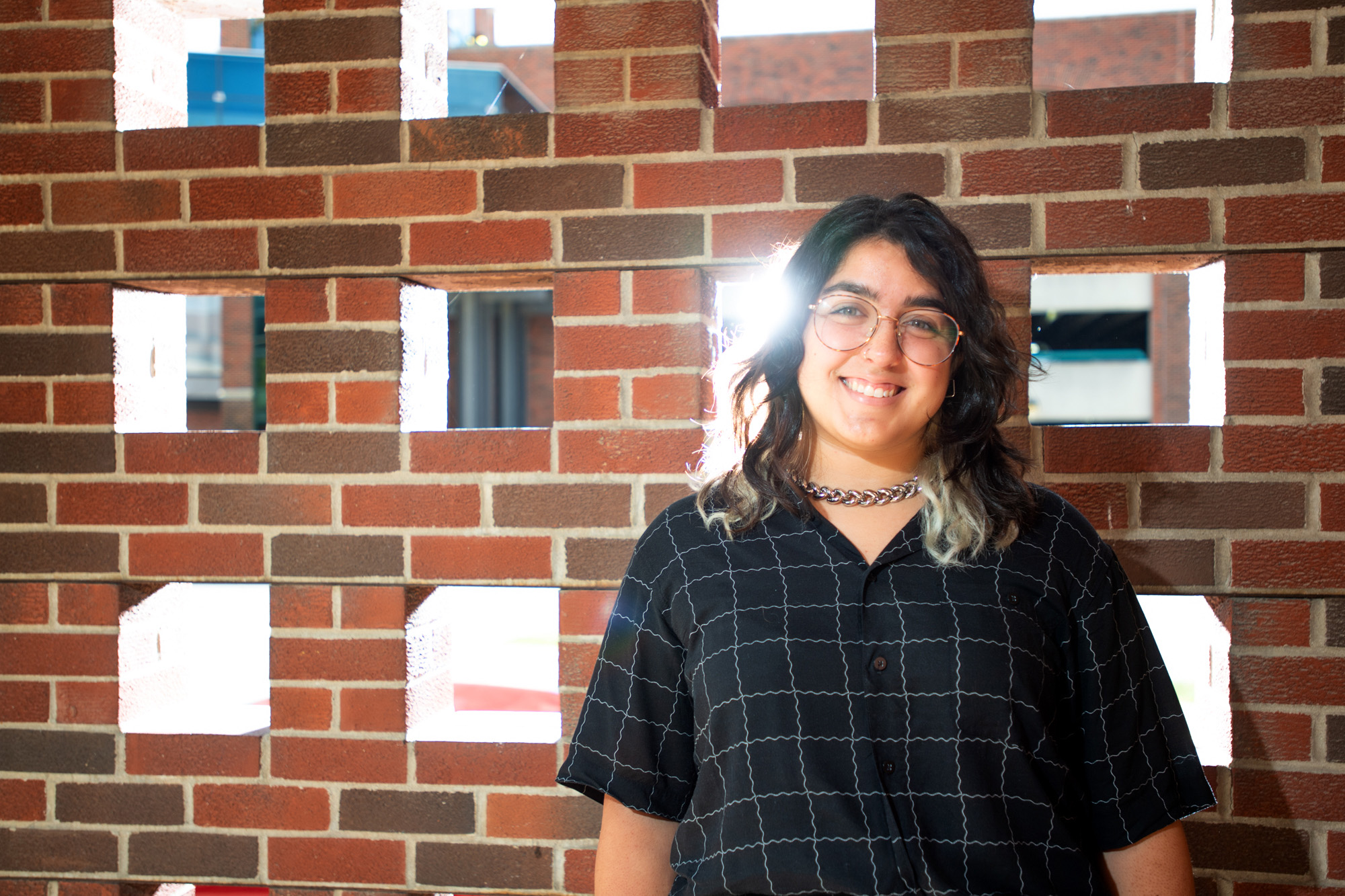 "I had such a strong support system here during undergrad that I asked myself, 'Why should I leave?' On top of the wonderful grad program at Iowa, a big reason I chose to stay was because I felt like no one else could compete with all the connections I had made."
University of Iowa alumna and current graduate student
When Robles-Muñoz felt her classes didn't sufficiently address a topic related to health equity, she took action. She invited interdisciplinary speakers to present information via a free, virtual platform she founded called TOGETHER, or Targeting Our Goals for Equitable Treatment in Healthcare, Education, and Research. Presentations covered LGBTQ+-inclusive mental health, assessment of language learning in bilingual children, and use of interpreters in research and clinical settings, to name a few.
"The goal was to make education about health equity more accessible to students and to providers. We had people from the community, public school teachers, practitioners, people not associated with the university, parents who showed up to get tips on how to access better health care for their kids," says Robles-Muñoz, noting an interest in gender-affirming speech therapy and helping trans or nonbinary people build confidence with their voices. "It started out with me just being curious and wanting to learn more about a topic, but it ended up benefiting a lot more people than I would have thought."
Iowa a top choice for aspiring speech pathologists
The University of Iowa's Department of Communication Sciences and Disorders is one of the oldest, largest, and most highly respected programs of its kind, training students and serving clients with speech, language, and hearing disorders for more than 70 years. Two of its graduate programs are ranked among the best in the nation by U.S. News & World Report: audiology at No. 2 and speech pathology at No. 6.
Robles-Muñoz says she was able to find a sense of community on campus by participating in Iowa Edge, an immersion program for select students from underrepresented backgrounds, and taking classes in the Latina/o/x Studies Program. At the Latino Native American Cultural Center, she found friendly faces, comfortable studying and napping spots, and sometimes even free food.
"Being from Houston, I did not anticipate the culture shock I would encounter here. Once I did Iowa Edge, I realized how important it was to me to be able to connect with people from similar backgrounds, like talking to a friend and not having to explain cultural references," she says. "Taking classes in Latina/o/x studies really grounded me. I was able to see myself represented in my professors and classmates. It was really impactful for me and ultimately a big part of why I decided to do a minor."
Despite the long distance from home, Robles-Muñoz says studying at Iowa has strengthened her cultural connections.
"I feel like coming to Iowa had made me more connected to my Latina identity. When I was surrounded by people like me all the time, I didn't realize how important my Latina identity was to me," she says. "Now I have to be more intentional—like creating dishes that remind me of home or finding a Latino community that reminds me of my family. It's about a sense of belonging and feeling like I'm part of something bigger."