Mobile simulation program helping save Iowa lives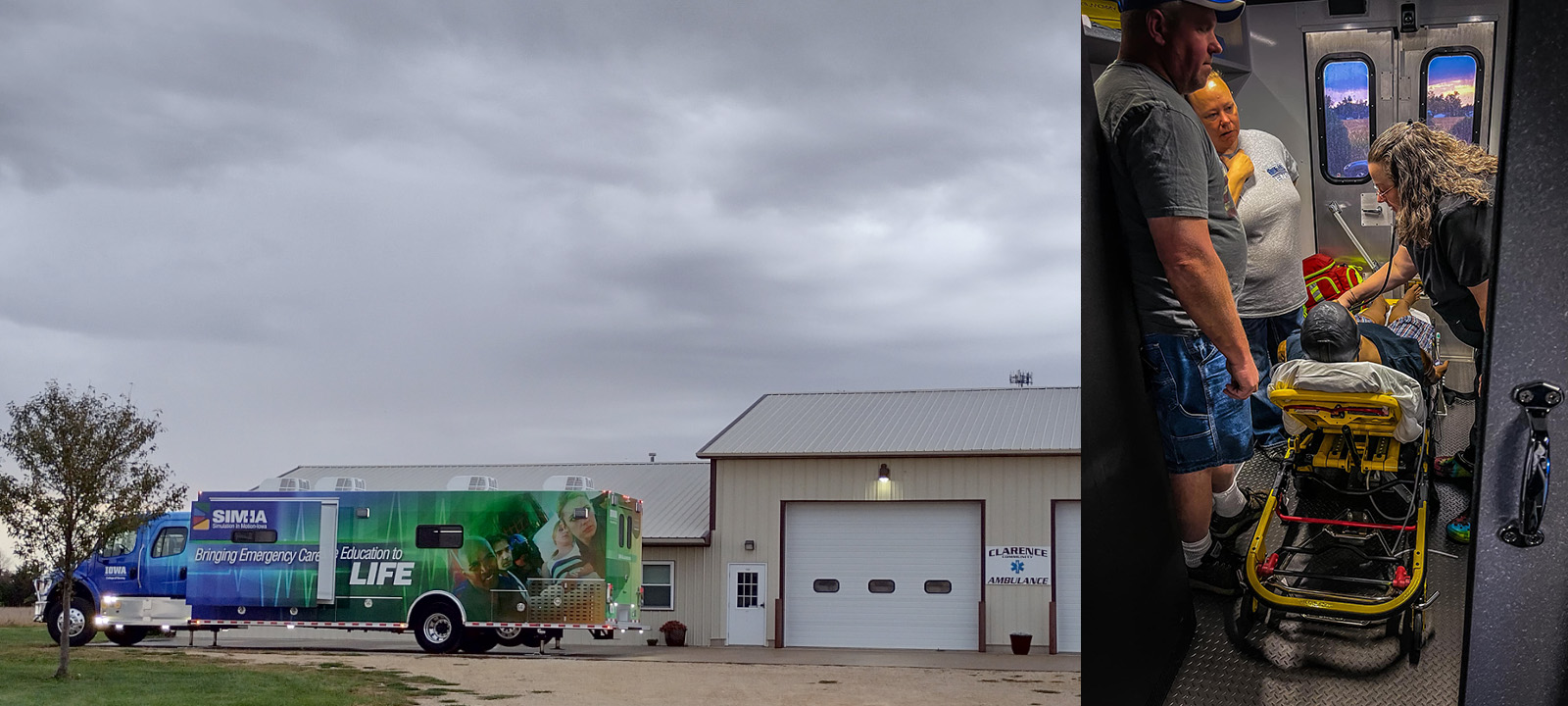 Less than six months on the road, a University of Iowa mobile education program designed to bring state-of-the-art training to EMS and hospital professionals already is being credited with helping improve life-saving care for Iowans.
Dawn Brus and Brittany Rogers
On Oct. 7, 2022, Clarence Community Ambulance Service was dispatched to help a child who was having a seizure and was unresponsive and not breathing.
On the way to the location, EMS responders Brittany Rogers and her partner that day discussed potential care and what they might do in different scenarios.
The two had faced the exact same situation just two days earlier—although the "patient" then was a technologically advanced mannequin used by Simulation in Motion-Iowa (SIM-IA), a mobile education program based at the University of Iowa designed to bring state-of-the-art training to EMS and hospital professionals throughout the state, particularly in rural areas.
"From start to finish of this call, it felt like a repeat of our scenario, just a different environment," says Rogers, who is the EMS director for Clarence Community Ambulance Service, the primary provider of emergency medical and trauma services for the Iowa communities of Clarence, Lowden, Massillon, and the surrounding rural areas. "We knew what to do, and our patient had a good outcome. I associate that in part to our recent training with SIM-IA."
The UI College of Nursing in 2021 received an $8 million grant from the Leona M. and Harry B. Helmsley Charitable Trust to support the initial SIM-IA startup costs. This included purchasing three vehicles, each about the size of a semi-trailer truck and equipped with a simulated ambulance cab, simulated emergency room, and high-fidelity human patient simulators that can bleed, breathe, and even give birth.
Dozens of training scenarios can be simulated in the trucks, from heart attacks and traumatic farm injuries to airway obstruction and medication errors. The trucks also have a control room, from which educators can change the simulations on the fly to imitate any number of complications that health care providers might run into.
The first truck hit the road in July 2022—helping first responders across the state prepare for RAGBRAI—and since then, about 700 Iowa health care professionals have tackled the myriad emergency situations that can be simulated in it.
Preparing to deploy two more SIM-IA trucks
The $8 million grant from the Leona M. and Harry B. Helmsley Charitable Trust allowed the University of Iowa College of Nursing to purchase three vehicles, each about the size of a semi-trailer truck and equipped with a simulated ambulance cab, simulated emergency room, and high-fidelity human patient simulators.
One truck is based in Iowa City and is currently providing training for communities mainly in eastern Iowa. The other two trucks will be based in Sioux City and Des Moines, providing service to central and western Iowa. SIM-IA is finishing memorandums of understanding with those cities and working to hire full- and part-time educators to staff the simulation programs.
Jacinda Bunch, assistant professor in nursing and SIM-IA advisor, wrote the grant with Cormac O'Sullivan, clinical associate professor of nursing, director of the college's anesthesia program, and SIM-IA advisor. Bunch says it's wonderful to hear how SIM-IA already is having a positive impact on Iowans.
"Part of the reason we applied for this grant was because we knew that it had the potential to benefit patients directly. We also knew that it had the ability to improve the lives of the providers who are taking care of people in Iowa," Bunch says. "If we helped with just one child, that's huge and worth all the work."
Rogers says COVID-19 has required training to be mainly online over the past few years. She says SIM-IA offers a unique training environment she couldn't offer her team.
"I believe that learning how to care for your patients is best coupled with hands-on skills and the teach-back method," Rogers says. "Having an opportunity to train on rare cases, some of which we might never see in our EMS career, especially in a rural setting, is an experience I wanted for my team. Best patient outcomes happen when providers hone their skills and knowledge through repetition of them."
Brian Rechkemmer, program director for SIM-IA, says realistic, hands-on training is crucial for life-saving skills to become second nature.
"The nice thing about providing a hands-on experience is that we can complete the learning circle," Rechkemmer says. "Our state's amazing EMS responders have the knowledge and they have their scope of practice and their protocols. Now, we can put the knowledge that they have in their head into their hands and help them feel more confident in what they're doing."
"SIM-IA is an invaluable service that benefits everyone, especially rural areas with a lower call volume, where practicing your skills to keep proficient is so vital because they might be rarely utilized."
EMS director, Clarence Community Ambulance Service
Rogers says SIM-IA offered her team a realistic experience in a calm environment. But just because it wasn't a real patient didn't mean it felt less real.
"I say 'calm' and laugh a little because during the scenario, I'm pretty sure my heart rate increased and my palms might have been a little sweaty as I took care of my pediatric patient," Rogers says. "My team and I discussed our experiences, and while we all knew we had mannequins for patients, the setup and experience felt like treating a real patient.
"The equipment we used in the scenarios is the same equipment we're using in the field," Rogers continues. "SIM-IA offers a lifelike patient that breathes, talks, has palpable pulses, lung sounds, movement, and the ability to bleed. How rare of an opportunity to take care of a patient and progress through skills from basic to advanced on a patient, and then reset and go through it again! It's an invaluable service that benefits everyone, especially rural areas with a lower call volume, where practicing your skills to keep proficient is so vital because they might be rarely utilized."
When an EMS service, fire station, or hospital requests SIM-IA training, they can choose what types of simulations they'd like to go through depending on their community's unique needs.
"The Cedar Rapids Fire Department recently instituted a new protocol for smoke inhalation that they wanted to run through, so we set that up for them," Rechkemmer says. "A lot of smaller community hospitals have lost their labor and delivery departments, so a lot of places ask for that training."
40: Percent of Iowa's 3 million residents who live in rural areas and rely on an extensive rural health care network of small hospitals, clinics, and EMS providers
11,770: Number of certified EMS providers in Iowa
70: Percent of Iowa hospitals that are critical access hospitals
Less than 40: Percent of Iowa EMS providers who receive real-world simulation training
What will you find in each SIM-IA truck?
4 high-fidelity human patient simulators: 1 adult male, 1 adult female who can give birth, 1 school-aged child, 1 newborn infant
1 fully equipped ambulance treatment box
1 fully equipped emergency room bay
Video system for analysis and debriefing of simulators
Ultrasound education capabilities for trauma and maternity care
Multiple task trainers to facilitate practice of clinical skills
Want to bring SIM-IA to your community?
While clinical simulations can be found in many formal education programs, simulation resources are often not readily accessible for certified and licensed providers. Providing clinical simulations for health care professionals beyond their initial education provides opportunities to:
Promote active and engaged learning of new procedures, equipment, and skills
Experience clinical situations that may occur less frequently, especially in rural areas
Practice essential teamwork and communication skills
Discover procedural, resource, or access challenges before impacting patient care
Ensure the highest-quality care and evidence-based practice across the state
If a specific training simulation isn't requested, Rechkemmer says they have four main simulations they will recommend: adult trauma, adult anaphylaxis (severe allergic reaction), pediatric seizure, and infant trauma.
Rogers says she asked the SIM-IA team to run an adult chest pain simulation and let them choose the others: one being a pediatric seizure simulation. As a mother of two boys, Rogers says pediatric calls are particularly difficult.
"One of the worst fears you can have as a parent is losing that child," Rogers says. "A sick pediatric patient is not an easy call. Having parents around you watching you try to save their child while you do everything you can to do just that, is not a calm environment–although the mom of the child we helped a couple days later did such an amazing job at staying calm and answering questions for us. SIM-IA offered an environment that was realistic, with a frantic family member and a sick child that was getting sicker by the minute. At the end of the scenario, albeit with a higher heart rate than you started with, you come out of the scenario with a refreshed knowledge of care for that type of patient and a refreshed set of skills."
On the aforementioned Oct. 7 call, Rogers and her partner put their training into action.
"Our refreshed skills and knowledge meant that we provided appropriate care, faster and more efficiently," Rogers says. "Ultimately, that's what everyone strives for with every patient they encounter. SIM-IA improved that care and mission."
One of SIM-IA's benefits is that it allows communities' first responders and health care professionals to sharpen their skills without going anywhere. Such hands-on, simulation-based training normally would require travel.
"We'll come right to your front door," Rechkemmer says. "We can rotate people through and make it easy for them, without the added expenditures of sending them somewhere else for training."
Bunch says this is especially important for rural communities that may not have a huge EMS team.
"If you're sending people for training, you're taking them out of the community and leaving a potential hole," Bunch says. "This is one way we can better support them."
The current grant will support SIM-IA for another three years—allowing EMS providers to train for free while a charge is required for hospitals or other community health or emergency services partners. Rechkemmer is working hard to develop partnerships to fund SIM-IA past the initial grant.
"My goal is to make sure that SIM-IA is sustainable, to make it free for EMS for the rest of its life," Rechkemmer says. "And I expect it to live a long life."
Rogers urges other communities to utilize SIM-IA, promising that they—and the people they serve—won't regret it.
"If you live in an area with a department that trains regularly and seeks out opportunities to be active in hands-on learning, that's a good area to be in," Rogers says. "That means that the team coming into your home wants to provide the best care that they can every time they have the opportunity. SIM-IA provides that type of training. Iowa communities are better served because of the training opportunities that it offers."