Solving problems through social media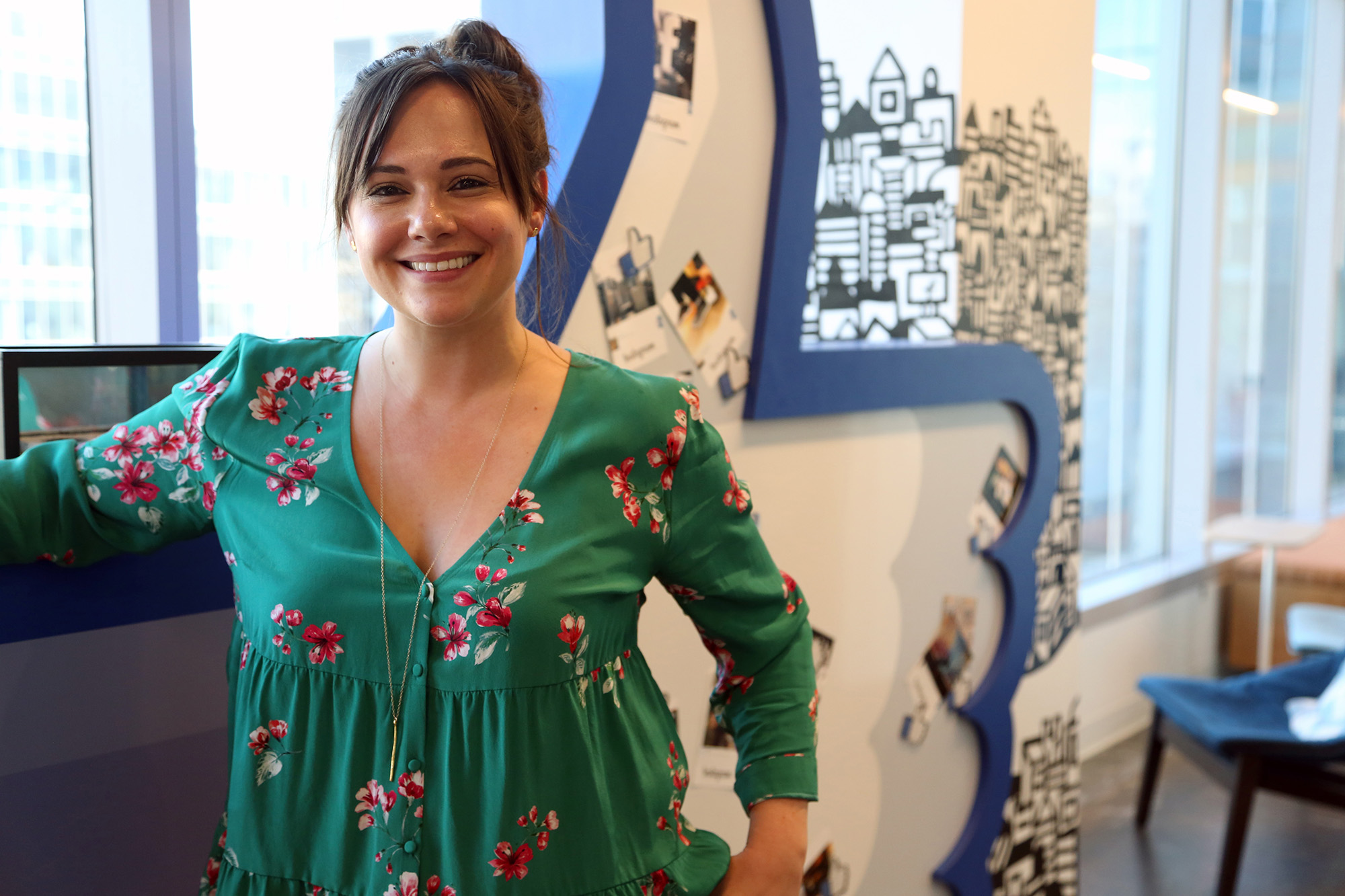 At Facebook, University of Iowa graduate Kristen Beck works across different platforms and cultures to help clients reach goals.
Photography and videography
Kristen Beck compares her role at Facebook to being "connective tissue."
The 2005 University of Iowa graduate is a global solutions partner in the social media giant's Chicago office. She works with advertising clients to help them leverage use of the company's products, which reach more than 2 billion people worldwide each month.
"I spend a lot of my time trying to understand what's working for my clients on a Facebook platform and what's not working, and then trying to identify those problems and come up with solutions," she says. "Most of my team is based in New York, so I travel there about once a month, and I also frequently visit teams in Paris, London, and Australia."
"What I like most about this job is being able to identify a problem and use my own methods and resources to help solve it." 
Global Solutions Partner, Facebook
Beck, who earned a UI degree in journalism and mass communication and communication studies, started working at Facebook in 2011. Before that, she held account management jobs with Yahoo and Snapchat. She says her classes and student employment at Iowa prepared her well for a career in the digital marketing industry.
"Learning how to write concisely and get my point across in my journalism classes was invaluable," she says. "In my communications classes, I learned to truly consider perspective—on not only your role within a company but also the other parties that you work with—and to think outside of the box and get that 360-degree view of how businesses work. It's about being more mindful and scrutinizing everything that goes into your day-to-day job."
Campus work as a marketing representative with Student Life Marketing and Design offered Beck the opportunity to interact directly with clients, such as the Iowa Hawk Shop, and to be part of a marketing team. "It gave me something to put on my résumé—something that set me apart from other candidates."
Beck says the digital marketing industry not only is fast-paced, it is quickly growing. When she started at Facebook's Chicago office in 2011, there were 15 employees. Now, nearly 300 employees are spread out over two floors in a high-rise in the city's Loop area—and the company is poised to expand further after recently signing a lease in a new downtown building.
"What I like most about this job is being able to identify a problem and use my own methods and resources to help solve it," she says. "I work with some of the most intelligent people I've ever met in my life. It's humbling to see the different ways people think and how they push you and make you stretch a little bit further and get uncomfortable."
Growing up in rural Illinois near Starved Rock State Park, Beck was interested in teaching and art—and also in writing, which drew her to the University of Iowa.
"Writing was one of the reasons I decided to come to Iowa—not only because it has the Writers' Workshop but for its journalism school," she says. "I thought journalism would offer some marketable skills beyond just reporting."
Beck says she also encountered at Iowa a strong sense of community, and that's something she wished to nurture in Chicago. That prompted her to become an ambassador for a nonprofit organization called Spark, which leads a mentorship program for young adults. Once a week for 10 weeks during the school year, middle school students visit the Facebook office and work on a project.
"Spark takes kids in certain schools across Chicago and matches them with mentors in professional settings," she says. "It exposes them not only to experiences but to people who can coach them on things like networking and understanding time management and other skills that will benefit them down the road."
Beck also finds time to give back to her alma mater. For the past two years, she has invited UI students working at Student Life Marketing and Design to Chicago to meet and seek career advice from her and her colleagues at Facebook.
"One thing I love about the University of Iowa is that we're a proud community—and I feel that same sense of pride working at Facebook," she says. "Part of our mission here is to give people the power to build community and connect."