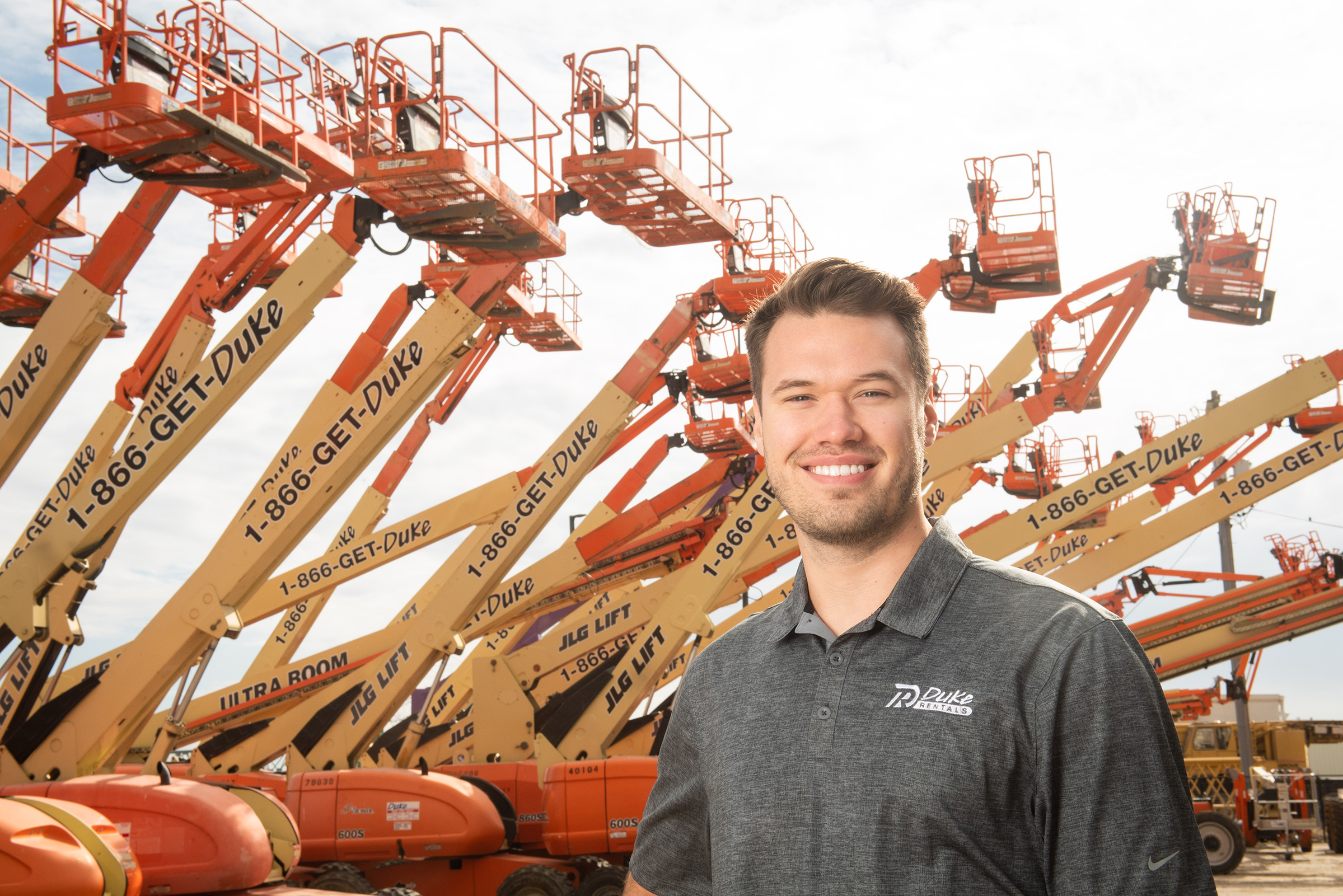 Tippie College of Business graduate Matt Tolton is taking over his father's Atlantic-based business while starting his own cybersecurity firm.
Degree: BBA, finance; BBA, information systems
Hometown: Atlantic, Iowa
Future plans: Work as executive vice president of Duke Rentals, and start his own consulting company, Tolton Technologies.
The state of Iowa is an important place for Matt Tolton.
It's the state where he grew up, went to college, and made lifelong friends. It's the state that welcomed his father from Canada and helped him get his construction equipment rental business off the ground in Atlantic. And the little southwest Iowa town comforted him when his mother died of pancreatic cancer when he was 11.
It's no surprise, then, that Tolton plans to stay in the state after graduating this spring with bachelor's degrees in information systems and finance from the University of Iowa's Tippie College of Business.
He actually has two careers in Iowa lined up post-graduation. One is working as executive vice president of Duke Rentals. His father started the company in 2000, and it has since grown to more than 300 employees at 15 offices throughout the Midwest. Though the company will remain headquartered in Atlantic with his father, the younger Tolton will continue his leadership role remotely from Iowa City.
He's also starting his own consulting company, Tolton Technologies, a provider of digital-transformation services specializing in cloud migration, cybersecurity, and modern workplace solutions. Tolton Tech also will be run from Iowa City.
Tolton says he has a passion for technology, reflected in his focus of overseeing Duke's digital expansion and improvements of its IT security. He says many companies in the construction industry have not fully embraced digital processes or concerned themselves with cybersecurity, and few companies cater to the segment, so he sees a market for his own firm to tap into.
He says he chose Iowa because of the high quality of education and Tippie's outstanding reputation. He also liked that Iowa City was far enough away to feel like he was on his own, but close enough to Atlantic that it was easy to get home when needed. He's been working for his father's company since he was a child, and took on a leadership role in 2018 while simultaneously taking classes and being active in the Phi Kappa Psi fraternity on campus.
"I love that small-town sense of interconnectedness, and I feel a strong responsibility to keep it going,"
2020 graduate, University of Iowa Tippie College of Business
He's also been helping strengthen a business back in his hometown as part of a spring semester project in his Information Systems Capstone course in the Tippie College. He was part of a student team that is building an online and social media presence for the Harrisdale Farmstead, a small, experimental ecological farm near Atlantic. The farm is owned by Gil and Ardyth (Harris) Gillespie and is on land that has been in Ardyth's family for more than 150 years. The couple started the business when they moved back to the family homestead after retiring from Cornell University in Ithaca, New York, five years ago. They grow organic fruits and vegetables and raise organic lambs.  
"We don't have expertise in websites or social media, so we were quite excited about what they're doing to help us out," says Gil, noting that as educators, they want their web presence to be as much about learning and community building as promotion, which the students have incorporated into their design. 
Tolton and the student group connected with Ardyth through Kristy Walker, the Tippie College marketing and entrepreneurship faculty member who teaches the capstone course. Gillespie and Walker are active in the Practical Farmers of Iowa organization.
"Matt has done very professional work, and we're impressed with how he's helped us organize this," says Ardyth. 
Tolton says he's happy to be able to give back to the hometown that played such an important role in shaping who he has become, even from afar.
"I love that small-town sense of interconnectedness, and I feel a strong responsibility to keep it going," he says.