Having persevered, Luz Alcala wants to pay it forward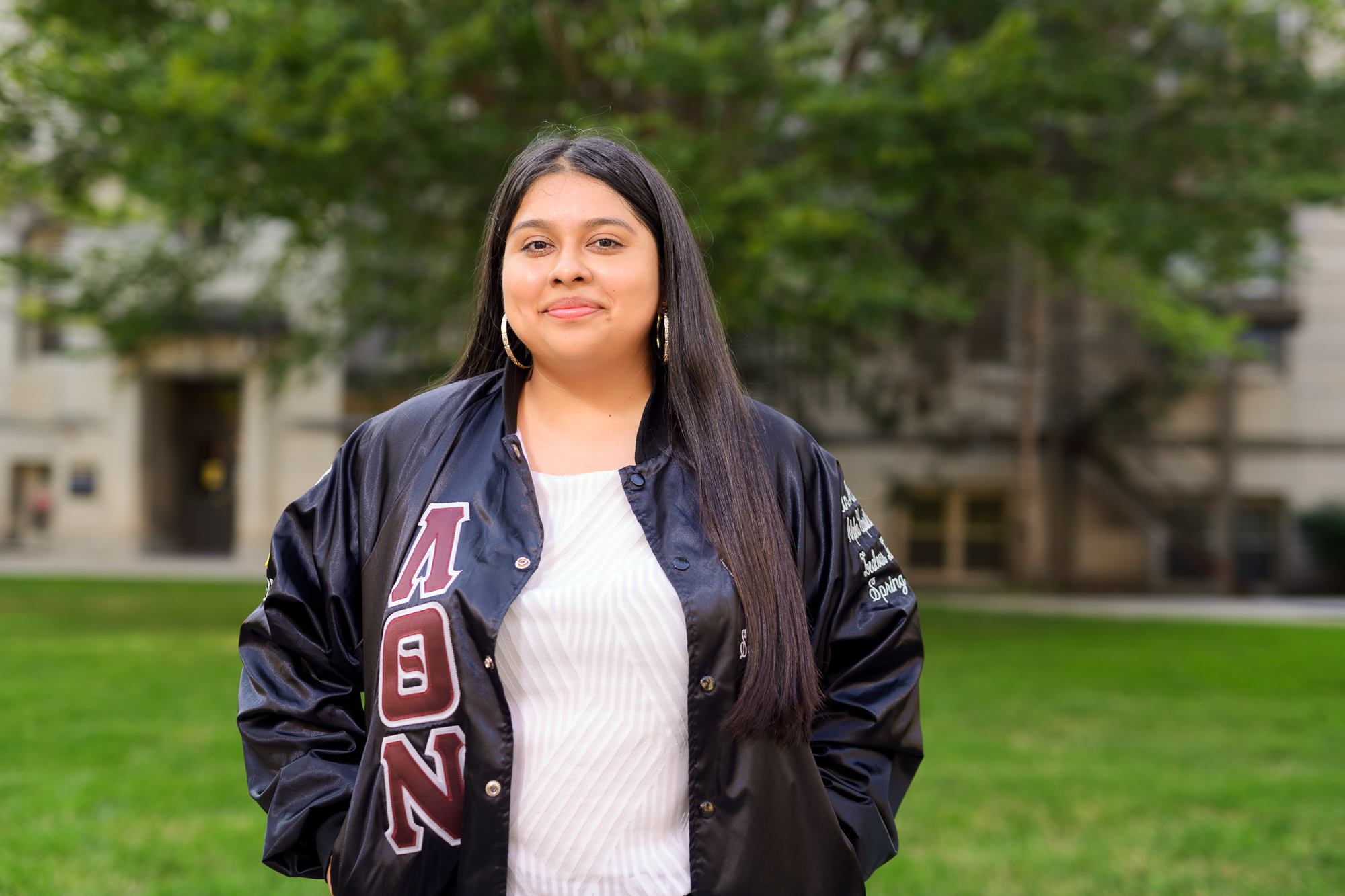 Luz Alcala came to the University of Iowa to earn a business degree, but the first-generation student will graduate with so much more.
What Latinx/a/o Heritage Month means to Luz Alcala
"I'm always thinking about the fact that I'm Latina, in any space that I enter, but I think this is a time and opportunity for others to focus on Hispanic heritage and to learn more about it means to be Hispanic. It's not just eating tacos and speaking Spanish. To me, it's about celebrating my culture and being able to celebrate other cultures as well."
Just a few years ago, Luz Alcala could hardly envision herself on a college campus. The application process itself seemed daunting. Now, the University of Iowa senior is poised to graduate in 2022 with a Bachelor of Business Administration, two academic certificates, and extracurricular experiences sure to attract the attention of potential employers.
"College in general was a big mystery to me," says Alcala, a first-generation student from Villa Park, Illinois, whose parents immigrated to the U.S. from Mexico. "Even applying to college was something I had to do on my own, so I asked my high school teachers about where to go. It was my Spanish teacher who recommended the University of Iowa, so I applied and visited campus twice. Iowa gave me the college experience I wanted along with the financial support I needed to continue my education."
Staying in school, however, was yet another challenge for Alcala.
"The first semester was really hard on me as a first-generation student. I really questioned whether I belonged at the university," says Alcala, who is studying human resource management in the UI Tippie College of Business. "Being at a predominantly white institution, it was hard for me to connect with my culture, with students of color, and also with students in my social class, especially in the College of Business."
The Iowa Edge program—and the connections it provided—became a lifeline. The UI immersion program for select students from underrepresented backgrounds introduced Alcala to students who looked like her and to places and events that made her feel comfortable on campus. She met her best friend on the first day as well as a student mentor who inspired her to become a peer mentor in the program the following year. She also got involved in BizEdge, a mentorship program in the Tippie College of Business.
UI program works to create welcoming environment
The Iowa Edge, an initiative of the UI Division of Diversity, Equity, and Inclusion, is a program for selected African American, Alaskan Native, American Indian, Asian American, Pacific Islander, Latinx/a/o, first-generation, and LGBTQ+ students transitioning to college. Students arrive on campus before the fall semester begins and have the opportunity to meet faculty and staff leaders, learn about various campus resources, develop leadership skills, and make new friends.
"Honestly, those programs are the reason why I'm still at the University of Iowa. They gave me the foundation and confidence I needed to stay motivated," says Alcala, who will graduate with certificates in international business and leadership studies. "For example, I remember not knowing that you could get a master's degree in business and feeling embarrassed when my classmates were talking about it. That was something I could ask my Iowa Edge mentor about. She also sent me scholarship opportunities left and right and took me to student organization meetings if I didn't have anyone to go with. Although she's graduated, she still checks up on me."
Alcala has paid the generosity forward by mentoring others, an experience she says has further boosted her confidence.
"I didn't see myself being a mentor. I asked, 'What are they going to learn from me?' But having mentees and seeing them develop from my sophomore year to my senior year has been incredibly rewarding," she says. "I'm so proud of them—and so happy to be able to give back to others the mentorship that got me through my first year."
Alcala also has developed on campus a passion for supporting diversity, equity, and inclusion (DEI) efforts. She works in various capacities to make others feel welcome and to answer their questions, and hopes to continue doing so after graduation.
"I see everything that I'm doing now as contributing to my future career. I want to bring in diversity and inclusion wherever I end up, to make sure that I'm uplifting others, especially others with underrepresented identities, and I think I have valuable experiences I can bring to the table to continue to do that."
senior in the UI Tippie College of Business
"If I end up at the right company, I can make a lot of change within that company by bringing in more people from underrepresented populations and then supporting them in the workplace," says Alcala, who is a DEI ambassador for the Tippie College of Business. "That is really important to me."
Alcala also has held leadership positions in the Multicultural Business Student Association and Lambda Theta Nu, a sorority focused on Latinas in higher education, and is a student employee in Tippie's Undergraduate Program Office and in the Pomerantz Career Center.
Gabriela Rivera, associate director of DEI in the Tippie College of Business and Alcala's adviser, says the opportunities Alcala has taken advantage of on campus will serve her well in the business world.
Discovering oneself while discovering a new culture
Studying abroad might feel out of reach to many college students, let alone a first-generation student like Luz Alcala. However she strongly urges students to learn more about it.
"I didn't think study abroad was an opportunity for me, especially coming from a low-income household, but there are scholarships available and many programs have the same pricing as classes here. I did a two-week study abroad in Italy, and I loved it. I traveled there and back by myself and felt really independent. I made some amazing friends. I ate amazing food. I learned so much about the Italian culture, and I learned so much about myself."
"Luz has learned the very complicated processes involved with applying to college and graduating, and has gotten a deeper understanding of the DEI initiatives in the college," she says. "It's important to her to make an impact on the experiences of other students, especially women and those from underrepresented backgrounds. By taking on these leadership roles, she has a better understanding of the needs of the groups she is serving and that will benefit her when she takes a professional role in human resources."
Alcala says her student experience at Iowa has prepared her to effect positive change in the workforce.
"I see everything that I'm doing now as contributing to my future career," she says. "I want to bring in diversity and inclusion wherever I end up, to make sure that I'm uplifting others, especially others with underrepresented identities, and I think I have valuable experiences I can bring to the table to continue to do that."