Helping Black men stay in college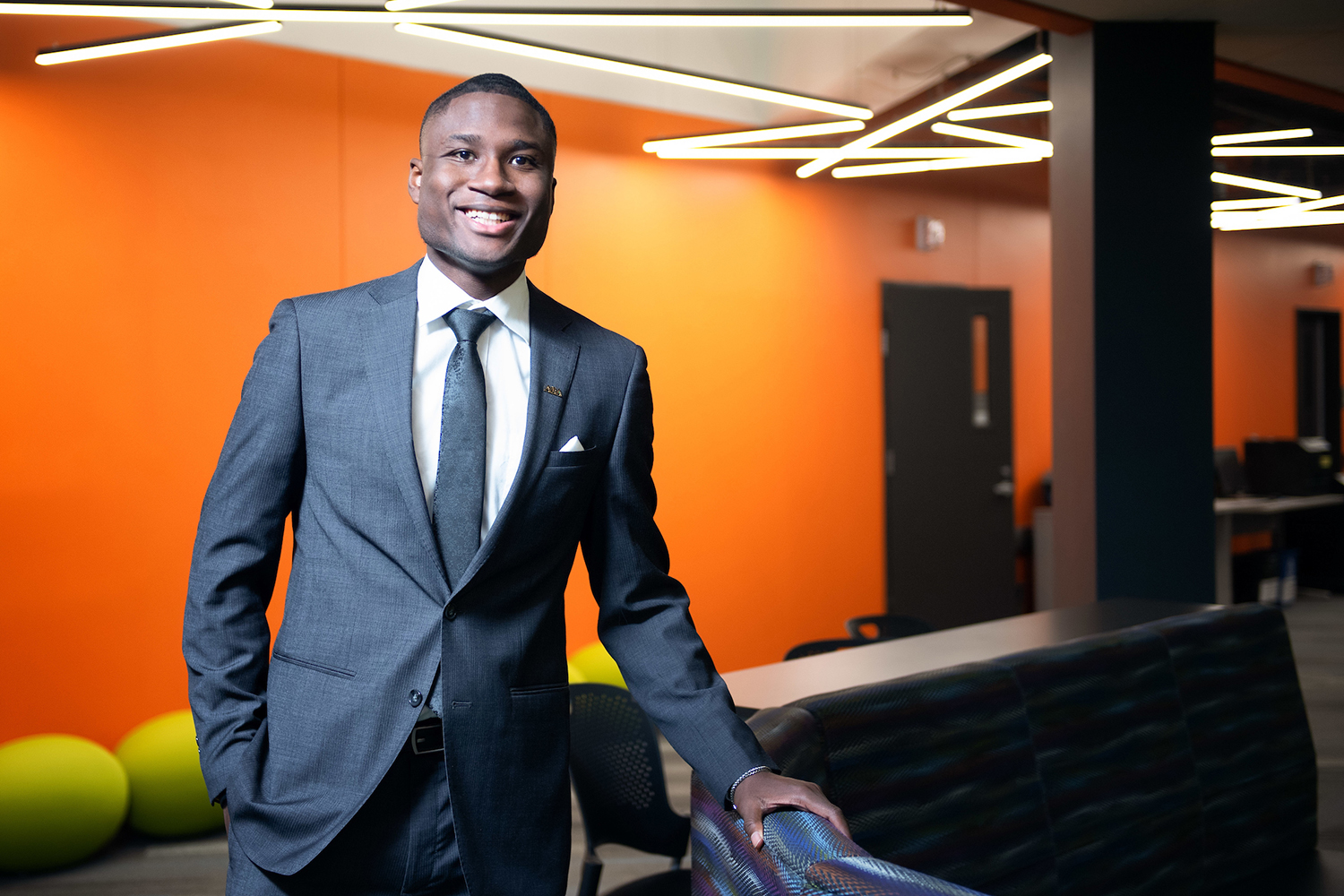 As an undergraduate student, Charles Martin-Stanley II developed a passion for sociology and social justice. In a doctoral program at the University of Iowa, he is using that passion to develop real-world solutions that aim to keep Black men in college.
February is Charles Martin-Stanley II's favorite month. It's a time to celebrate and to learn.
"It's the time of year that our entire society is really thinking about something that I think about 24/7, and that's Black history," says Martin-Stanley II, a fourth-year doctoral student at the University of Iowa. "I'm really passionate about my history, about the different things that Black people have given to our country, and about the resiliency that Black people have had. I see Black History Month as an educational opportunity."
Throughout the month, Martin-Stanley II enjoys engaging his social media followers with trivia about Black history. His commitment, however, isn't limited to February—it has become a professional endeavor. In the College of Education's Higher Education and Student Affairs Program, he is researching the persistence and retention of Black men at historically white institutions and the barriers that prevent some of them from graduating.
"Research shows, for example, that the six-year college graduation rate for Black men is at 43%, but it doesn't address the systemic barriers that hinder their academic growth," he says. "I am looking at their socialization and focusing on how they can be successful. What is the racial climate on campus? What interactions are they having based on race?"
Iowa's multicultural centers
The Afro House is one of four cultural centers on the University of Iowa campus. In addition to the centers, which are designed to serve students as a home away from home, Iowa has more than 100 multicultural student organizations that provide programming, service, educational programs, and cultural experiences to the entire campus community.
In his qualitative research at Iowa, Martin-Stanley II has found that having a sense of community is paramount. Students tell him they want to feel comfortable at their institutions, both academically and socially. Not only does he advocate for retention programs that seek to build that community, he is actively involved in them at Iowa.
"Hubbard Scholars is a student-led program here that focuses on the recruitment and retention of African American students," says Martin-Stanley II, who serves as the group's president. "Every Wednesday we gather at the Afro House on campus and talk about what it is like to be a Black man at a historically white institution. What are some of our struggles? What are our successes? How can we be a support system for one another? This is something we need on campus. We're a small group but we're building on ways to bring in more students."
Working with institutional leaders on developing more retention programs like Hubbard Scholars is crucial, he says, to "challenge the narrative—and also that graduation rate."
Martin-Stanley II, who was born in Ohio and raised in Wisconsin, first studied sociology at Luther College and later earned a master's degree in education from the University of Wisconsin–LaCrosse. He saw continuing his studies in a doctoral program as a path to having the most impact in higher education.
"I knew that I wanted to help students—students who look like me, more specifically. There weren't a lot of us at my institution, and I'm a big proponent of representation. Representation matters," he says. "I thought doing graduate work in student affairs administration would position me to best help students, specifically students from marginalized populations."
In his hunt for doctoral programs, the Iowa faculty stood out. In fact, in his UI application letter, he asked to study with Sherry Watt, professor of higher education and student affairs (HESA) in the College of Education.
"She had written an article on treating racism the same way we treat cancer and on talking about it in a similar way. Those are the kinds of discussions I wanted to have," he says. "And when I visited campus, it felt like home. It was comfortable, and the HESA program made the students feel very welcome."
Watt says Martin-Stanley II is an example of how students in the program use their research and critical thinking skills to inform practical strategies to work with organizations on improving effectiveness.
"His research matters greatly, and he's doing it from the perspective of African American males, looking at the positive ways they have progressed despite barriers and also the ways they've been resilient," she says. "Since he's experienced the system himself, both negatively and positively, he is intensely and intentionally advocating strongly for both African Americans, in general, and African American men, in particular. Not only does his work support individuals and their strengths, but it also raises questions about the system and what makes it inadequate for them."
Martin-Stanley II says his dream job is to be a faculty member with a part-time appointment working in a multicultural student affairs office.
"I want to be a part of the conversation about building inclusion initiatives and retention programs that help African American men," he says, "and I'd like to teach one or two classes about race and diversity in higher education."
Iowa's well-rounded curriculum, one that includes courses on statistics, policy, and finances, along with opportunities to be on multiple faculty research teams have given Martin-Stanley II the tools he says he'll need as a professional in higher education: "It's not just seeing how things work in the classroom, it's also going out and having conversations with K–12 teachers and also sharing my own research at national conferences."
While Black History Month is just one month a year, Martin-Stanley II sees it as something to build on.
"If we learn somebody's name and what they did for society, then we can learn about bigger and more systemic issues and have conversations about those on a day-to-day basis," he says. "And if we talk about institutionalized racism and systematic racism at a young age, it'll make conversations like these less hard to have in higher education."