New heart one day, new kidney the next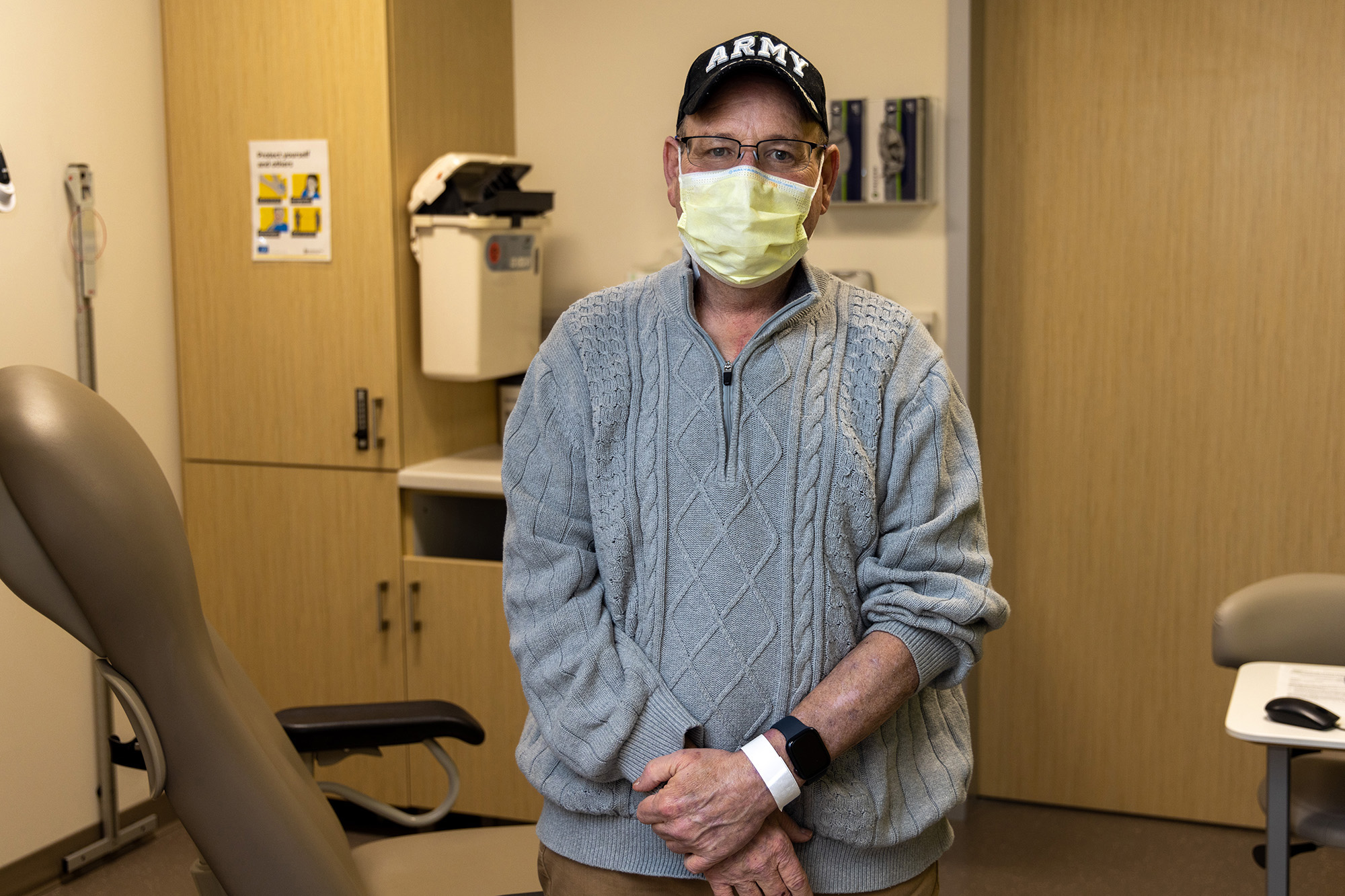 University of Iowa surgeons performed rare back-to-back transplant surgeries for Thad Crane. Now, healthier than ever, the Selma, Iowa, man has a new outlook on life and is grateful for the coordinated care he received.
Thad Crane feels like he's been given his life back, and says he's got the surgeons and medical team at University of Iowa Hospitals & Clinics to thank.
In November 2021, Crane received both a heart and kidney transplant within a matter of hours, a surgical marathon only possible in Iowa at UI Hospitals & Clinics.
"I haven't felt this good in probably seven to eight years, and to be able to do what I can do now, to go where I want to go—having the freedom to be able to do that without being tethered to a dialysis machine at home or worried about getting worn out, it's just so overwhelming," says Crane, 55, of Selma, Iowa. "It's just amazing."
His care team is pleased, too.
"He is just blazing through cardiac rehab," says Michael Viray, MD, Crane's transplant cardiologist. "Here's a man who needed both a kidney and a heart, who was in pretty bad shape, and he's doing great."
Years of discomfort
Crane was on his way home from a delivery in Des Moines in October 2011 when a truck pulled out in front of him on the interstate and his small pickup hit it at 70 miles per hour. He was flown by ambulance to a Des Moines hospital, where bone marrow from his multiple fractures leaked into his heart and lungs, causing damage. His heart stopped twice during surgery and left him with lasting damage in his left ventricle.
His care was transferred to UI Hospitals & Clinics, where he underwent cardiac rehabilitation, physical rehabilitation, and a handful of additional surgeries. Weighing more than 300 pounds at the time, he needed to undergo gastric bypass surgery to prepare for an eventual transplant.
Through the past decade of treatments for heart damage, doctors discovered Crane also had kidney damage from a genetic disease called thin membrane disease. His kidneys were not able to properly manage fluid and electrolytes, leading to progressive fatigue.
His doctors determined that he would need a kidney transplant, but his heart wasn't strong enough to undergo the kidney surgery alone.
"I was on diuretics, so I was overusing my kidneys, and at the same time my heart wasn't able to pump blood like it's supposed to," Crane says. "It was really the perfect storm inside my body."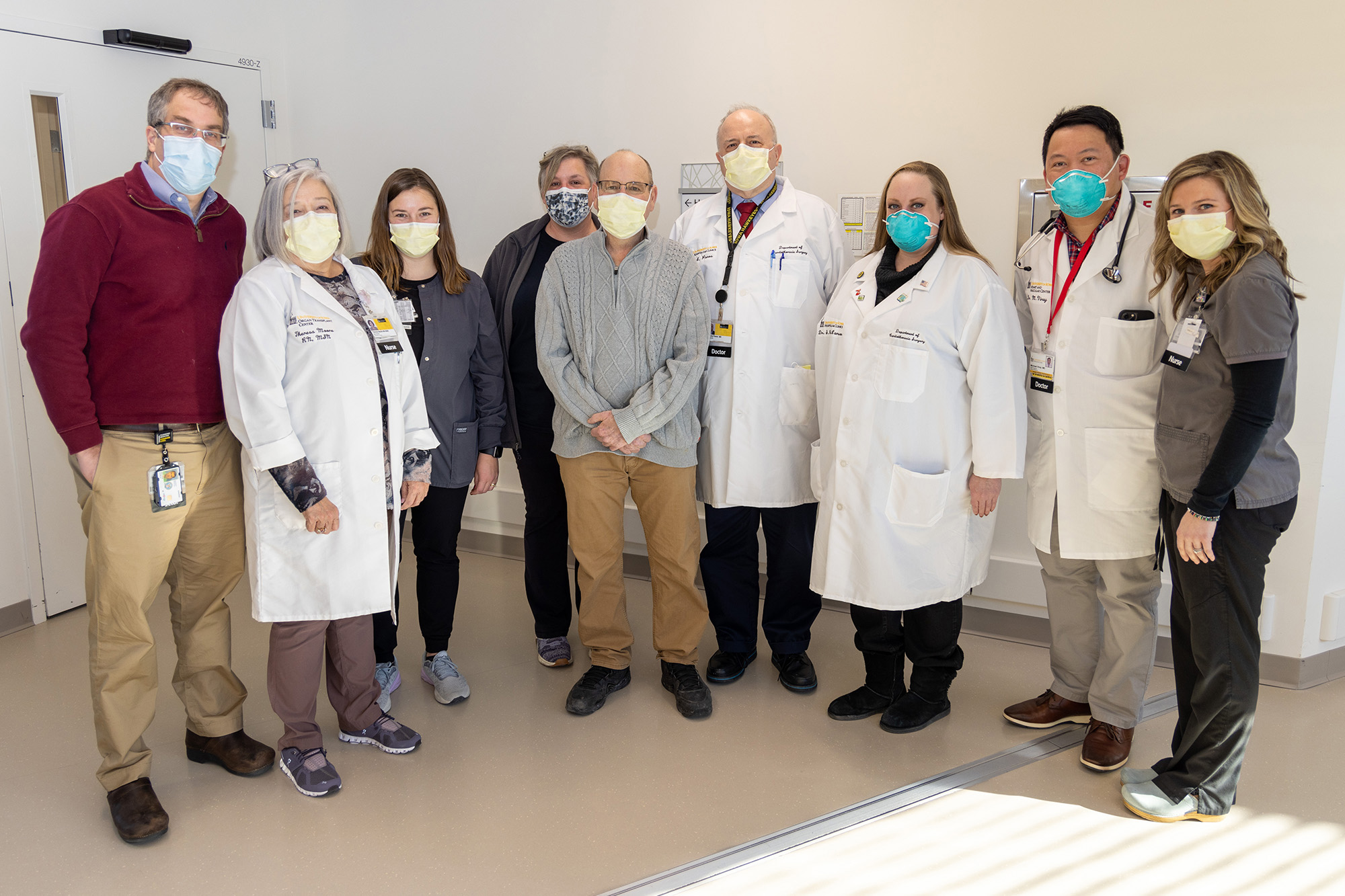 "I can't believe how fortunate I am to be able to see the sun every morning. I have a whole new outlook on life—you don't take anything for granted."
who received both a heart and kidney transplant within a matter of hours at UI Hospitals & Clinics
Preparing for transplantation
Crane was stabilized enough to be put on the transplant lists for both a heart and kidney in early November 2021. The two transplant teams worked together to prepare for the dual surgeries.
"In this case, Thad just wasn't healthy enough to just get a kidney transplant—he had to have them both," says David Axelrod, MD, MBA, Crane's kidney transplant surgeon. "And if they just did the heart, the likelihood is that he would have ended up on dialysis, which is really tough when you're on immunosuppressants, and being on dialysis after any organ transplant that's not a kidney reduces the likelihood of survival."
Cardiothoracic surgeons implanted an intra-aortic balloon pump, a temporary mechanical support to help Crane's heart pump more blood and help make him strong enough for surgery.
Because UI Hospitals & Clinics is a comprehensive medical center, both transplant teams as well as Crane's care team from the cardiovascular intensive care unit (CVICU) were able to collaborate on the best treatment plan both pre- and post-surgery.
"Both of our talented and committed thoracic and abdominal transplant teams are multidisciplinary with good clinicians who are both surgeons and doctors," Axelrod says. "With a case like this it really is a team approach, and that takes all the teams working together."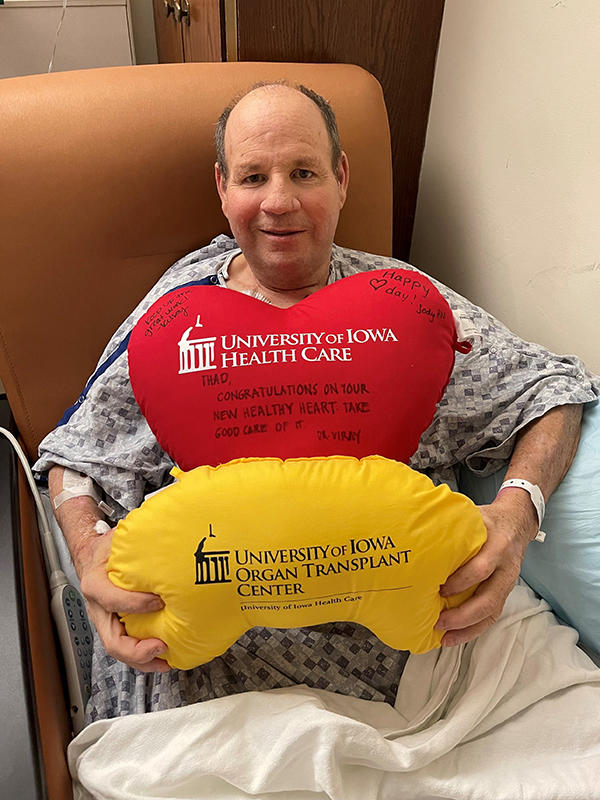 Because UI Hospitals & Clinics is a comprehensive medical center, both transplant teams as well as Thad Crane's care team from the cardiovascular intensive care unit were able to collaborate on the best treatment plan both pre- and post-surgery.
Both transplant teams had to evaluate Crane as well as the organs before he could be a candidate for the dual transplant.
"Most of his care leading up to the transplant was driven by the heart team; our job on the kidney side was to support them," Axelrod says. "The only way he was going to be healthy enough for a new kidney was to first get a new heart."
Although the surgeries were driven by the heart team, Axelrod says, a combined management plan involving both the heart and kidney teams was used throughout the process.
"We work together on managing medicines, making sure the organs were safe from fear of rejection, all of that," says Viray. He says communication among all the teams was important both before and after each surgery.
"There's a lot of coordination between all the teams to make this possible," he says. "All the stars have to align and all of the team members have to be on the same page for this to be successful."
Good news arrives
Crane was fortunate enough that he didn't stay on the transplant list very long. On Nov. 23, 2021, Viray went to Crane's room to deliver the news, with Crane's wife, Laura, joining on video chat. A heart and kidney had become available, and they could now schedule his surgeries.
"I couldn't believe it," Crane says. "I couldn't believe I'd gotten them so soon."
"I was so glad that they called me with video," Laura Crane says. "It was so unbelievable how fast it all happened. And then reality hit: We were going to do this the next day, but then what? What happens next?"
Heart transplant
If you have advanced heart failure and other treatments aren't working, a heart transplant may be the answer. A heart transplant can prolong your life and greatly improve your quality of life.
Kidney transplant
When it comes to your choice for care in receiving a kidney or pancreas transplant, the University of Iowa Organ Transplant Center offers many benefits for adult and pediatric patients.
Both the kidney and the heart came from the same donor whose family donated the gift of life.
"There are significant benefits to putting both organs in from the same patient," says Axelrod. "You can monitor risks of rejection more easily if the heart and the kidney are related, and you don't have the potential of them reacting to the other."
"Doing them together increases the likelihood the patient will rapidly get better, be removed from dialysis, and be freed from chronic health care issues," he says.
So late on Nov. 24, the heart transplant team led by Sharon Beth Larson, DO, MS, FACOS, FACS, and Anthony Panos, MD, implanted a new heart during a nine-hour surgery. Early the next morning—Thanksgiving Day—they told Laura the surgery had gone well.
Five hours later, Crane was wheeled back into the operating room where a team led by Axelrod transplanted his kidney.
Enjoying a healthy life
Crane has maintained his rehabilitation since his transplant, and says he is healthier now than ever. He's walking five to six miles every day, and is anxious to finish getting his pilot's license so he can fly.
He's grateful to everyone who had a part in his care.
"I owe them my life, I really do," Crane says. "They were all so amazing, every one of them. Moving forward, I'm going to try to make it as meaningful as possible, to try to pay it forward as best I can. I want to do everything I can to help others hold on to hope—I was running out of hope, but I held on.
"I can't believe how fortunate I am to be able to see the sun every morning," he says. "I have a whole new outlook on life—you don't take anything for granted."