Hawkeye's NFL gig is about more than a game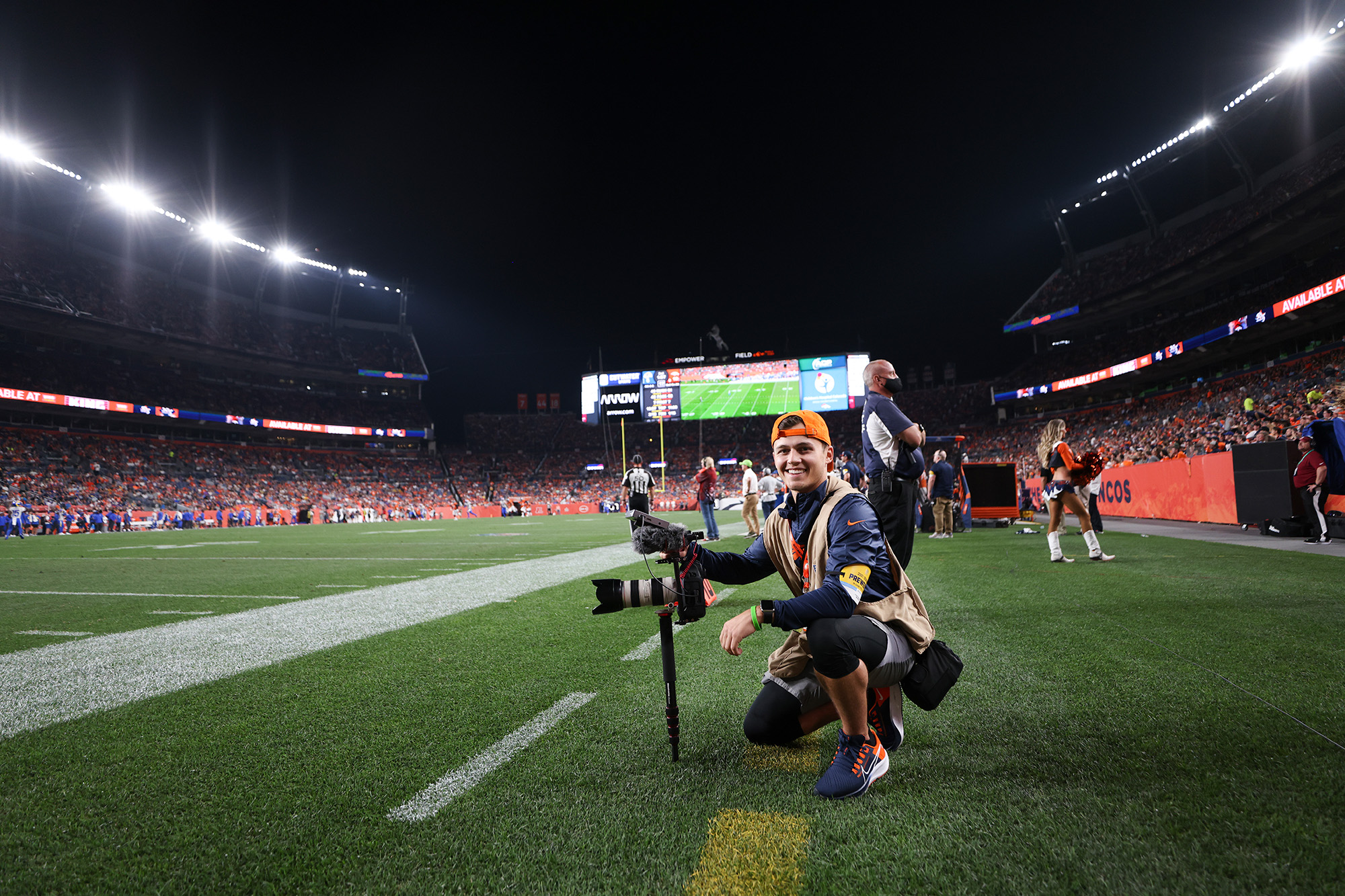 As the social content intern for the Denver Broncos, 2020 University of Iowa graduate Cole Cooper is combining his creative skills with his marketing education to help build the professional football team's brand.
Former Hawkeye athletes won't be the only ones representing the University of Iowa when the NFL's Denver Broncos take the field during the 2021 football season. Recent UI graduate Cole Cooper will be on the sidelines capturing photo and video content for the team's social media channels.
Cooper, who earned a BBA in marketing from Iowa in 2020, started as the Broncos' social content intern in July. As gridiron competition kicks off, he's putting in nearly 60 hours of work each week, shooting practices and games and taking direction from the team's social media director. He loves it.
University of Iowa graduate Cole Cooper felt like part of the Hawkeye family even before he took a class: "I went to the Rose Bowl in 2016 when I was a senior in high school, and it was an awesome experience. As soon as I flew into California, I could see Hawkeye fans walking in the street, yelling 'Go Hawks!' Being in that environment, with Hawkeye fans left and right, felt like family to me. I don't think there's a better representation of my experience as an Iowa Hawkeye."
"I'm constantly being challenged to do new things, and the content goals differ from day to day," he says. "I might be making a highlight package or putting together an Instagram carousel or trying to capture really cool photo bursts for us to use later in a video. I'm learning every second that I'm here."
Working full time as part of a creative team covering sports is ideal, Cooper says. In fact, he is zeroing in on his dream job.
"My career goal was to work in the NFL or another professional sports league, so I was applying for a lot of baseball, football, and basketball gigs. Working for the Denver Broncos is a perfect fit. I'm a big snowboarder, and I'm very outdoorsy, so I appreciate being in Colorado," Cooper says. "Ultimately, I would like to be a creative director—head of digital or social content—for an NBA or NFL team where I can still be hands on and shoot things."
Creating content for the Broncos is not Cooper's first gig in sports. When he realized in high school that he likely wouldn't become an elite athlete, he turned his attention to a second passion: photography. He captured the efforts of friends who played sports, and the quality of his work caught the attention of the Iowa Barnstormers, a grassroots basketball team based in his hometown of Cedar Rapids. He spent two years as the team's social media manager, and later received an Adidas contract to travel around the U.S. photographing top high school basketball prospects. He continued that work at Iowa, shooting Hawkeye football and basketball as a freelancer for the Big Ten Network.
Marketing for an NFL team is about more than the contest on the field, Cooper says.
"Just like any company, there are different things that need to be done every day. We are just more focused on how we portray each of our players in the content we're putting out. But everything that comes out of the Broncos, whether it be on a social or digital end, is very different than how it would work in a regular company," he says. "You don't necessarily see all the planning that is done on the back end in sports."
Teaming up with former Hawkeyes
As social content intern for the Denver Broncos, Cole Cooper was able to connect with fellow Hawkeyes on the team's roster during training camp, including tight ends Noah Fant and Shaun Beyer, linebackers Josey Jewell and Barrington Wade, and cornerback Michael Ojemudia.
"Noah Fant helped me with the transition and made me feel comfortable here," Cooper says. "I know Shaun Beyer because I used to capture him running around when we were in high school in Cedar Rapids—we were at rival high schools, so it was really cool to be together on the same field."
Taking marketing classes at Iowa gave him the opportunity to leverage his skills and build his own photography business—and it changed his perspective.
"Those classes, especially those taught by Rob Rouwenhorst, made me dig deeper into different aspects of business and think more holistically about marketing," Cooper says. "I wouldn't have thought, for example, about the smell as I walk into a chocolate store or the texture of a shirt I touch when I'm at a clothing store, but those things are a big part of a company's brand marketing."
Rouwenhorst, an associate professor of instruction in the UI Tippie College of Business, says Cooper is a great example of how an Iowa education enables students to become better versions of themselves.
"Cole developed an artistic eye taking photos of Hawkeye athletes. He took classes from folks doing cutting-edge research in their fields and then applied that knowledge in classes with me consulting with companies such as ProCircular and Kohl's," Rouwenhorst says. "Everyone needs to think about how things can be done better, while at the same time recognizing there is no failure. There is only the latest version. That growth mindset drives innovation and is at the heart of our program at Tippie."
Iowa will prepare you, challenge you, and change you. You will change the world. We accept applications year-round.
Cooper says he would love to return to the Iowa campus—and especially to a game at Kinnick—but his schedule with the Broncos will make that difficult.
"We get one bye week this fall, and I already have something scheduled that week," says Cooper, whose father and grandfather also are UI alumni. "Sadly, I won't be able to get back to campus anytime soon, but I look forward to taking my kids to Kinnick in the future."