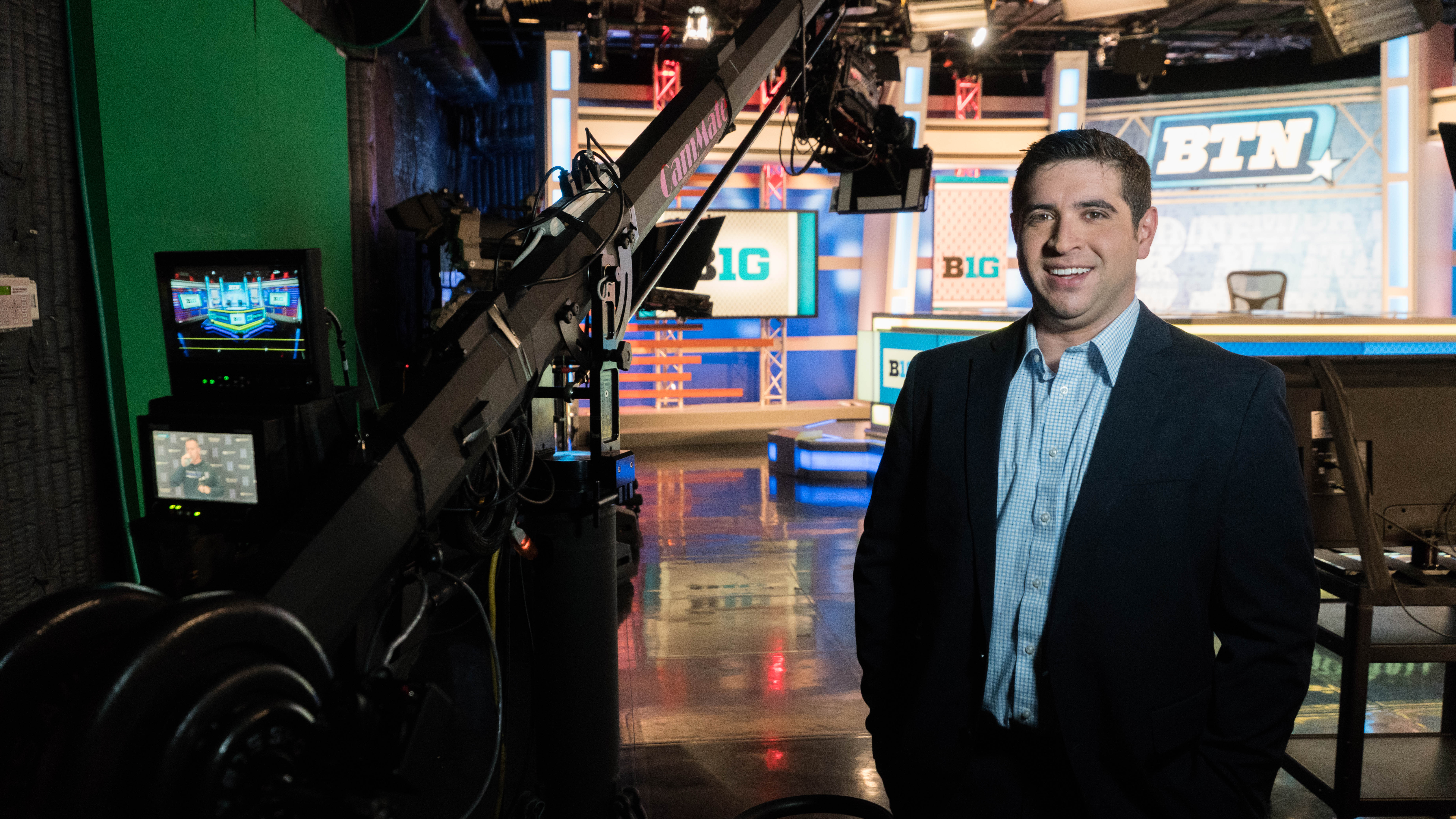 Work as a student broadcaster led University of Iowa alumnus Jordan Loperena to his dream job at the Big Ten Network.
The setting for Jordan Loperena's 2016 job interview with the Big Ten Network couldn't have been more appropriate—or more comfortable.
It took place outside Kinnick Stadium, where the 2010 University of Iowa graduate had logged countless hours as sports director for KRUI, the university's student-run radio station. Officials for the Chicago-based sports network were in Iowa City to cover a Hawkeye football game, and it happened that Loperena, at the time a content associate at ESPN in Connecticut, was visiting his alma mater.
"It was a pretty cool way to get my start with the network," says Loperena, who majored in communication studies and sport studies at Iowa. "I got a job offer a week later."
Take the first step to joining the Hawkeye family!
Iowa will prepare you, challenge you, and change you. You will change the world. We accept applications year-round, and are currently admitting new students for the following fall semester.
Loperena is an associate producer with the Big Ten Network (BTN), where he does everything from pitching ideas and producing graphics, to working on digital segments with football analyst Gerry DiNardo and doing field production for the traveling show BTN Tailgate. He says his experience at KRUI prepared him well for the job.
"Working at the radio station opened the door to a bunch of experiences that I wouldn't have otherwise had—covering football games from the press box and on the road, attending Coach Ferentz's press conferences every week, going to bowl games and Big Ten tournaments," says Loperena, a lifelong sports fan who didn't realize Iowa had a student-run station when he first arrived on campus. "I met the KRUI sports director through a mutual friend and then joined the staff. By the time I became sports director at the end of my sophomore year, I had decided that was the direction I wanted my career to go."
The job at KRUI led to an internship his senior year with the UI athletics department producing video content for BTN's Student U program. One of the biggest lessons he learned working in student media production, Loperena says, was how to be professional.
"Being in that environment, you have the chance to be a sponge and absorb everything you are learning," he says. "You find out how to carry yourself and, maybe most importantly, what not to do."
That may be why ESPN contacted Loperena after he submitted an online application upon graduation.
"I was pretty certain the application would never see the light of day, but I guess my résumé stood out," says Loperena, who was recognized by the UI Division of Student Life as an outstanding student organization leader in 2009 for his work at KRUI. "As a student, I really tried to make the most out of every opportunity I could and exhaust every available resource to help build the strongest résumé possible by the time I graduated. Thankfully, the University of Iowa provided me with countless opportunities and resources—to the point where I felt I was already beginning to build my future career while I was still in college."
Hawkeye football coach Kirk Ferentz says he's not surprised Loperena attracted the attention of ESPN and BTN.
"Jordan is a sincere and genuine person first and foremost," he says. "He's also very passionate about what he does and has a real love of the business."
"When I go back to Iowa City, it always feels like home. It's a warm, welcoming place, and that's not something everyone gets from their alma mater."
Although Loperena enjoyed the six years he spent at ESPN, the Lake Zurich, Illinois, native was itching to return to the Midwest. He says he has no regrets about leaving the sports media giant. He is proud of the content he and his colleagues are producing at BTN, and he loves the variety of work he gets to do.
"While I really like being out on the road and interacting with coaches and players, I also like putting on a really good studio show in Chicago," he says. "A lot of effort goes into it behind the scenes. You might work on a 30-second montage from the weekend in college football, and while that's only 30 seconds to the viewer at home—and it might be the coolest 30 seconds they saw all show—it could have taken you hours to put together."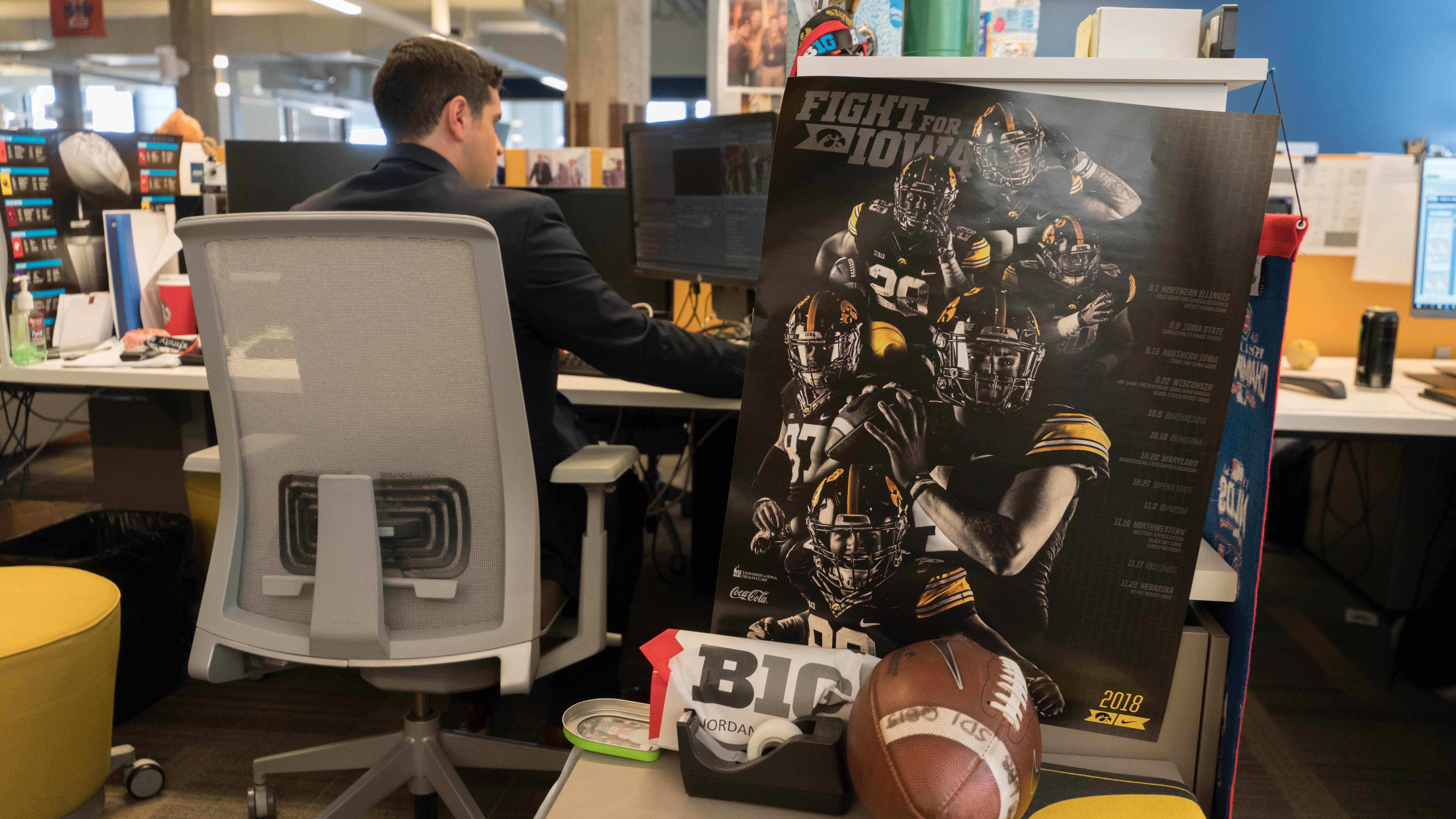 That effort has become more collaborative in recent years, Loperena says, and that has been a welcome change.
"The industry has moved very heavily digital," he says. "Instead of only producing a TV show, for example, you're now also thinking about other platforms. You're asking, 'How could this be good digital content?' 'How will it play on social media?' There is more communication and cohesiveness between the production units, and that's a really good thing because you have more minds working together to create the best possible content." 
As much as Loperena enjoys sports, he tries to take a break from them when he's not on the job. That said, he does return to campus a few times a year to catch a Hawkeye game. He knew he had selected a good school in the University of Iowa, but he says his expectations were surpassed.
"When I go back to Iowa City, it always feels like home," he says. "It's a warm, welcoming place, and that's not something everyone gets from their alma mater."
Produced by the Office of Strategic Communication